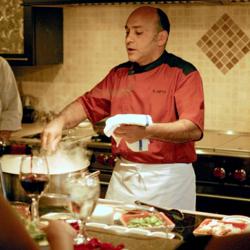 This interactive experience allows guests to share Chef Feker's mission to get his guests back to the basics...
Milwaukee, Wisconsin (PRWEB) September 09, 2011
IL MITO Enoteca now offer motorcoach and tour operators all-inclusive packages for 30 to 75 guests starting at only $20, with the option of including a cooking demonstration from Chef Feker himself; as well as both luncheon and dinner dining options, flexible pricing and menu options to suite guests' needs including gluten free menu options and heart healthy meals, free motorcoach parking and complimentary dining for the group escort. This interactive experience allows guests to share Chef Feker's mission to get his guests back to the basics, to get people cooking again and back to the table with great food, friends and family.
Michael Feker, owner and executive chef, and his culinary and service team of IL MITO Enoteca in Milwaukee, open their doors to Tours and Tour Operators. IL MITO, Feker's Italian/Mediterranean inspired restaurant, and CMF's School of Culinary Magic, Feker's state-of-the-art cooking studio where he hosts cooking demonstrations, private events and personal lessons, are centrally located in the heart of historic East Tosa (Wauwatosa, Wisconsin). It is not only this ideal location that allows for minimal travel time and maximum enjoyment for guests, but also the love of food and flavors that Feker shares with his guests that make this a perfect gathering for tour groups.
When asked why he has welcomed tours, while other fine dining establishments have shied away from them, he happily answered "when you have a system in place with flavor and service being the backbone, you can serve, accommodate and please any number of people. Furthermore, what better way to capture many culinary souls than cooking for a whole group of them at once. I want to share my knowledge of food and love for life so my guests not only enjoy their experience here with me, when they leave they are empowered to take back their health and look at cooking and eating in a whole new way."
About Chef Feker and IL MITO
Chef Feker is a culinary innovator who has made it his mission to get people back to the dinner table; from his restaurant, IL MITO Enoteca, to his cooking school, CMF's School of Culinary Magic where he will hosts corporate team-building events, monthly gourmet beer and wine tastings, hands-on and demonstrational luncheons and dinners, as well as private lessons for individuals or couples.
IL MITO is located in Wauwatosa at 6913 W. North Avenue. Lunch is served Tuesday through Saturday 11am to 2pm; Sunday Brunch with Bloody Mary Bar 10am to 2pm; Dinner: Tuesday through Thursday 5 to 10pm, Friday and Saturday 5pm to 11pm and Sunday 5pm to 9pm. Reservations can be made online at: http://www.ilmito.com or by calling 414-443-1414. IL MITO also offers gluten-free lunch/brunch/dinner menus; full-service, on-site Catering; Lunch Deliveries and much more.
Keep up to date on Twitter and Facebook.
# # #