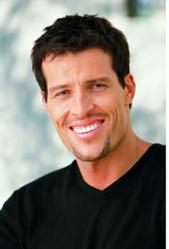 Anthony Robbins' philosophy is "The secret to living is giving."
Los Angeles, CA (PRWEB) September 08, 2011
World-renowned speaker, author and peak performance strategist Anthony Robbins has partnered with the nonprofit group the Los Angeles Food Bank to help feed local families in need.
Unleash The Power Within®, Anthony Robbins' cornerstone event is coming to Los Angeles, CA November 3-6, 2011. For every ticket sold to the event, Robbins Research International will provide 40 meals to local families through a monetary donation to the Los Angeles Food Bank with a goal of providing over 120,000 meals through this fundraising effort. Anthony Robbins' philosophy is "The secret to living is giving." He believes, "There is an unbelievable gift in life when you can step out of yourself and help someone else. The partnership with the Los Angeles Food Bank gives people an opportunity to make a difference in the lives of families in need, while making a difference in their own lives at the same time."
What began nearly 30 years ago as Robbins' individual effort to feed homeless families has now grown into the Anthony Robbins Foundation's International Basket Brigade, which feeds more than three million people in more than 56 countries every year. His foundation has also provided support and initiated programs in more than 2,000 schools, 700 prisons and 100,000 service organizations and shelters.
"I was 11 years old when a man I'd never seen gifted my family with a huge basket of Thanksgiving goodies we couldn't afford ourselves," stated Robbins. "In that moment I came upon a new meaning—strangers care. Soon after, I created the Basket Brigade to bring hope and food to those who need it most."
"We are pleased that Tony has chosen to work with the Los Angeles Regional Food Bank to positively impact hunger issues faced by so many families in our community," said Michael Flood, President and CEO with the L.A. Regional Food Bank. "With one in six people food insecure in Los Angeles County, fans and followers of Tony Robbins can make tremendous difference by attending Tony's event."
For further information and reservations for Unleash The Power Within® at the Los Angeles Convention Center in Los Angeles, CA November 3-6, 2011. Call 1- 800-594-4566 or visit http://www.tonyrobbins.com/losangeles
ABOUT THE LOS ANGELES REGIONAL FOOD BANK
The Los Angeles Regional Food Bank is a 501(c)(3) nonprofit, charitable organization, established in 1973 and has grown to become one of the nation's largest food banks. The mission of the Los Angeles Regional Food Bank is to mobilize resources to fight hunger in our community. For more information, visit http://www.lafoodbank.org, or visit us on Facebook or Twitter at http://www.facebook.com/lafoodbank, http://www.twitter.com/lafoodbank
ABOUT ANTHONY ROBBINS:
Entrepreneur, Author & Peak Performance Strategist
For the past three decades, Anthony Robbins has served as an advisor to leaders around the world. A recognized authority on the psychology of leadership, negotiations, organizational turnaround, and peak performance, he has been honored consistently for his strategic intellect and humanitarian endeavors. His nonprofit Anthony Robbins Foundation feeds more than three million people in 56 countries every year through its international holiday "Basket Brigade." Robbins has directly impacted the lives of more than 50 million people from over 100 countries with his best-selling books, multimedia and health products, public speaking engagements, and live events.
What began as a young person's desire to help individuals transform the quality of their lives has grown into Robbins' lifelong crusade as he is called on by leaders from every walk of life-presidents, political leaders, advocates for humanity, CEOs of multinational corporations, psychologists, peak performance athletes, world-class entertainers, teachers, and parents.
###