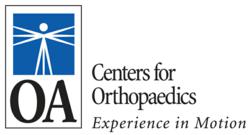 Portland, ME (PRWEB) September 10, 2011
OA Centers for Orthopaedics announced today it plans to open a new medical and physical therapy office in Brunswick. The new office is scheduled to open on Tuesday, September 6 at Brunswick Station. It will have a complete orthopaedic clinic and physical therapy center and have an initial staff of 15. The new Brunswick office marks OA's third satellite office to open in the past five years which complement its primary office in Portland. Patients requiring surgery will be referred to Mid-Coast Hospital or to OA's main office in Portland, which features a state-of-the-art outpatient surgery center in addition to clinical, diagnostic imaging and physical therapy.
John Wipfler, CEO of the 230-person orthopaedic practice, said, "Our satellite office strategy, in combination with our Portland surgery center, continues to be a successful independent practice model. We have many patients from the Mid Coast area and north and this will make it much easier for them to access our services. We are very excited and looking forward to becoming part of the Brunswick and Mid Coast area community."
Founded in 1982, OA Centers for Orthopaedics is the premier orthopedic practice in Maine and one of the country's leading innovators in orthopedics. It is Maine's only sub-specialty only orthopaedic practice. OA's 23 surgeons and physicians are highly specialized in areas such as sports medicine; hand surger; joint reconstruction of the hip, knee and shoulder; medical and surgical treatment of the spine; foot and ankle surgery; and fracture treatment. OA performs more orthopaedic procedures than any other practice in Maine, and some of the most sophisticated procedures in the nation. OA is accredited by the Accreditation Association for Ambulatory Health Care (AAAHC). OA has been cited by the national Ambulatory Surgery Center Association as a "world class center."
For more information, please visit http://www.orthoassociates.com.
###