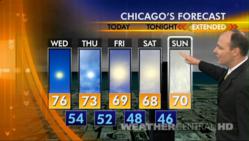 Madison, Wisconsin and Amsterdam, Netherlands (PRWEB) September 08, 2011
Weather Central, makers of the most viewed weather system in the world, today unveiled new and updated products aimed at helping media companies effectively create, manage and distribute weather information to any viewing platform.
IBC will provide a showcase of new and enhanced tools and products that empower media companies to engage their viewers through smartphones, tablets, PCs and connected TVs. The lineup includes a full suite of solutions for mobile web, WAP, iPhone®, iPad® and Android™ platforms.
"As broadcasters and other media companies expand their services to reach viewers using new devices, they are learning that now, more than ever, weather provides reliable and compelling content that their audience wants," said Bill Boss, vice president of product development and marketing for Weather Central. "Weather Central is helping broadcasters by making the process of delivering to multiple platforms both efficient and eye-catching, while ensuring that the underlying data is rock-solid. Done right, weather is entertaining, informative and, above all, trusted by the audience."
Solutions on display at IBC will include:
Multi-platform Delivery
Forecast Tailor™ is a new, easy-to-use web app that ensures broadcasters have the same forecast on every screen. Forecast Tailor eliminates the repetition and potential inconsistency inherent in pushing weather content simultaneously to web sites, mobile platforms and other display devices by automatically populating templates for each target with information drawn from any Weather Central broadcast production system.
Production
3D:LIVE Fusion™, from Weather Central, delivers the world's most accurate weather presentation solution within a complete, professional studio presentation and chroma-key production solution for news, sports, elections and entertainment. Broadcasters can share costs across several budgets using just one system to create compelling studio presentations and unmatched weather shows. Features include:

Native publishing of content to mobile and online platforms.
MagicTRAK® allows on air talent to interact in real-time with graphic content, virtual sets and video by drawing, highlighting and moving objects using a wireless remote, video signal and fingertip.
3D buildings, text and graphical customizations, and QuickMap flies for an easy, up-to-date solution that attracts audiences.
1KM Super MicroCast® delivers hyper-local, pinpoint accurate weather information.
SceneLaunch™ allows presenters to interactively touch on the screen and launch entirely new scenes for seamless storytelling.
New Fusion Studio™ enables broadcasters to put their unique stamp on weather presentations with a comprehensive package of new story-telling tools. This integrated 3D creation software package eliminates the time and resource consumption associated with high end 3D graphics and enables the on air meteorologist to directly interact with on-screen 3D elements—including multiple light sources, texture and data mapping to 3D objects—in real-time to create the most dynamic weather story possible.
Data
Weather Central is the only global provider of 1km resolution weather data. Used as a sole source or to supplement an existing local meteorology information office, exclusive data sets enable media companies to quickly answer their audiences' most important question, "how will the weather affect me?" Among the new data products on display at IBC 2011 are:
1) iFactor™ – an exclusive lifestyle-based weather rating system that interprets a comprehensive set of weather variables and provides viewers with an instantly understood "Impact Factor" index.
2) VividCast™ - this 1km downscaled data is the highest resolution model data ever offered. With sixteen times more detail than any other solution available to broadcasters, it combines unmatched accuracy with stunning hyper-local visualizations.
For a complete look at Weather Central's solutions visit http://www.wxc.com.
About Weather Central, LP Weather Central, LP, founded in 1974 by broadcasters and meteorologists based in Madison, Wisconsin, is the leading provider of professional on‐air, online, print, mobile and enterprise weather solutions and forecasting in North America and to major customers worldwide. Utilizing the Company's dynamic weather graphics, precise forecast models and data, and patented technology, more than 1000 partners and hundreds of millions of consumers worldwide benefit from Weather Central's attention to weather presentation, detail and insight.
© 2011 Weather Central, LP, Madison, Wis. All rights reserved. Product specifications and availability are subject to change without notice. Weather Central LP, :LIVE, GENESIS:LIVE, 3D:LIVE, ESP:LIVE, Weather Central MagicTRAK, LiveLine GENESIS, A.D.O.N.I.S. MicroCast, A.D.O.N.I.S. FutureCast, StormSentinel DV, WxWarn2, ScreenWRITER, SportsWRITER, SimulCAST, X‐Vision, Storm Vitals, TelePath, RainVision, SnowVision, FunnelPATH, CellPATH, HailZONE, GustZONE, MessoPATH, Always‐On Training, Instant Mapping and WxPoint are either registered trademarks or trademarks of Weather Central LP.
All other trademarks contained herein are the property of their respective owners.
###