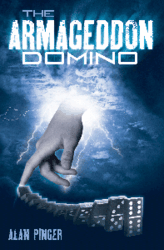 The Armageddon Domino is an action-packed tale of one family's actions in the face of Armageddon.
Smith River, Calif. (PRWEB) September 13, 2011
The year is 2014, and a series of very powerful earthquakes has hit California in this new novel. Unsure about the safety of their family, Scott and Megan Parsons decide to uproot their children and move to the relative safety of their elderly aunt's house in Texas. While en route, their home state is hit by an 11.5 earthquake, essentially decimating the state and starting a chain reaction of natural disasters across the globe. As world leaders attempt to deal with the crisis, Iran uses their distraction to instigate a nuclear conflict, thus triggering Armageddon.
The Parsons and the few people they've encountered along the way are attempting to keep themselves and their family safe, stockpiling supplies and sealing their home to prevent infection with the killer virus that is sweeping the earth. Will their precautions keep them alive, and if so, what will they find when they emerge from their self-imposed quarantine? Will there be any survivors, and does God have special plans for them? Will the world they knew be completely rebuilt, and what happens when their habits and personalities from their former lives comes up against the new way of doing things?
The Armageddon Domino is an action-packed tale of one family's actions in the face of Armageddon. Readers will find themselves cheering on the Parsons family as they do their best to keep their family safe and intact. Author Alan Pinger has effectively combined true Biblical research with his own fertile imagination to create a fascinating theory about what will happen to those fortunate people who survive Armageddon. Pinger has put a great deal of thought and time into the world that God will might provide for his chosen people, and the result makes for an interesting read.
For more information, visit http://www.ArmageddonDomino.com
THE ARMAGEDDON DOMINO
Alan Pinger
Dog Ear Publishing
ISBN: 978-145750-412-9 276 pages $13.95 US
Available at Ingram, Amazon.com, Barnes & Noble
and fine bookstores everywhere
About Dog Ear Publishing, LLC Dog Ear Publishing offers completely customized self-publishing services for independent authors. We provide cost-effective, fast, and highly profitable services to publish and distribute independently published books. Our book publishing and distribution services reach worldwide. Dog Ear authors retain all rights and complete creative control throughout the entire self-publishing process. Self-publishing services are available globally at http://www.dogearpublishing.net and from our offices in Indianapolis, Indiana.
Dog Ear Publishing – self-publishing that actually makes sense.
###