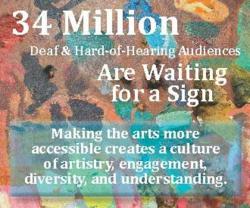 We want to empower people to communicate better.
Baltimore, MD (PRWEB) September 10, 2011
The Hearing and Speech Agency's Centralized Interpreter Referral Service (CIRS) is celebrating Deaf Awareness Week with a series of events, including Baltimore's Biggest Sign Language Class. Open to the public, this class will be conducted as an ASL immersion activity that is open for all skill levels and ages. Tina Montgomery, Director of the Centralized Interpreter Referral Service states, "It's really thrilling to open our class up to the entire community, to promote Deaf Awareness Week and to empower people to communicate better."
Deaf Awareness Week is always the last full week in September, and its purpose is to draw attention to deaf people, their accomplishments and their issues. In honor of the celebration, HASA has events planned during the entrie week, from September 19 - 24. Events Include:
"BALTIMORE'S BIGGEST SIGN LANGUAGE CLASS", presented in ASL, but open to beginners and the general public
"ASL FILM NIGHT: THE LEGEND OF THE MOUNTAIN MAN" Movie is an ASL film; the actors communicate in ASL. Film is captioned for the general public.
"LONGEVITY: LIVE YOUR HEALTHIEST LIFE", presented by Casey Davis, founder of DeafMD.org (ASL interpreted event)
"HOW TO SAVE MONEY", presented by Pauline Spanbauer and Ethelette Ennis (presented in ASL, oral interpreter available)
"WHY TECHNOLOGY IS SUCH A BIG DEAL", presented by Jim House (presented in ASL, oral interpreter available)
"LEARN ABOUT CAPTIONCALL - THE NEWEST PHONE TECHNOLOGY" (Interpreted in ASL)
"AGING AND HEARING LOSS" (Interpreted in ASL and Captioned)
Some events will require registration. Visit HASA online for a full schedule and to register.
About The Hearing and Speech Agency: HASA is a private non-profit organization that offers audiology, speech-language, special education and interpreting services to more than 4,000 children and adults each year. Services include hearing tests, pre- and post-cochlear implant services, hearing aids, hearing aid repair; speech-language evaluation and therapy, auditory-oral therapy; oral deaf education, occupational and physical therapy; special education, sign language and oral interpreting, American Sign Language classes deaf awareness seminars, social work and parent support groups.
# # #