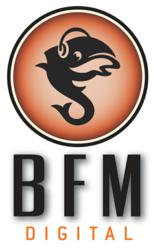 (PRWEB) September 09, 2011
BFM Digital, a global music company, specializing in digital distribution, marketing, and promotions, has teamed up with The Royalty Network Inc., one of the top independent music publishing companies in the U.S. The strategic partnership, between the two rapidly growing companies, will facilitate the worldwide, digital distribution of Royalty Network's extensive catalog of artists and songwriters.
This deal appoints BFM Digital as the preferred digital distribution company for The Royalty Network. For writers or artists without digital distribution, this new association provides them with an immediate impactful presence in the online music marketplace via BFM's network of more than 250 digital stores worldwide. Additionally, BFM Digital is the exclusive digital distributor for Krian Music Group, The Royalty Network's recently launched record label, which is distributed by Universal/Fontana. Krian's signings include indie rockers The Ettes and VHS or BETA as well as the Hip Hop artist Buck$ and pop/R&B sensation Richie Loop.
"The relationship between BFM Digital and The Royalty Network creates opportunities for both businesses to continue to expand. BFM offers premiere, worldwide digital distribution as well as customized marketing and PR services for The Royalty Network's artists. Meanwhile The Royalty Network provides BFM with a slew of exciting, new artists and content," says Steven Weber, President of BFM Digital.
BFM works with their clients- independent labels and artists- to develop individualized, structured plans for each release including pricing, distribution, marketing strategy and plans to increase revenue and maximize exposure. BFM also works closely with the leading digital services to promote BFM content on their storefronts through featured placements or product promotions.
In addition to the BFM and The Royalty Network, Inc. strategic partnership, the two companies have also launched Toasting Music, a new Reggae and Caribbean label distributed by Fontana Distribution LLC/Universal. The creation of Toasting Music will allow for new, quality Reggae releases to be properly marketed and promoted. Together with BFM's digital reach and The Royalty Network's vast experience in the reggae community, Toasting Music's artists will have physical and digital distribution, a full service creative department, and the opportunity for film and TV licensing.
"We couldn't be happier with the relationship we have with BFM. Their integrity, attention to detail, and hands-on approach they take with our clients truly offers the best of a synergistic relationship," says Krian Music Group and Royalty Network President, Frank Liwall.
Other recent successes for BFM Digital include: Steve Gadd & Friends, Don Corleon, Snatam Kaur, Globus, Peter Erskine, and Lady Saw.
For more information, please visit http://www.bfmdigital.com
About BFM Digital, Inc.
BFM Digital is a global digital music company committed to serving the independent music community and delivering quality music, spoken word and video content to leading online retailers worldwide. Representing a diverse catalog of indie labels, artists and publishers, BFM distributes to all of the major music services including iTunes, Amazon, Rhapsody, eMusic, Napster, Walmart, Nokia and many more. With an unparalleled commitment to personalized service, BFM works closely with their content providers from around the world to ensure maximum exposure of their catalog by customizing marketing efforts and building strong relationships with BFM's digital store partners.
Media Contact:
Workman Entertainment & Public Relations, WE + PR
Pam Workman: pam(at)workmanentertainment(dot)com; 917-749-8048
Pam Lipshitz: pamevelip(at)gmail(dot)com; 917-859-6852
###