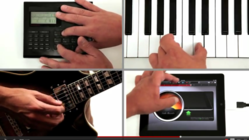 Recording music has become an extremely user-friendly process now that there are so many tech savvy tools available to us.
Bothell, WA (PRWEB) September 09, 2011
BEHRINGER, a well known manufacturer of professional audio equipment and musical instruments, announces the launch of an iPad Interface Video Series that gives an informative and easy to follow insider look at how to use several of the company's recording products with the iPad® mobile digital device and popular GarageBand® music recording application program.
The series features five different BEHRINGER USB audio interface applications intended for the everyday user, and specifically spotlights recording vinyl with the UFO202, recording a DJ set with the UCA222, recording guitar with the UCG102, recording a band with the XENYX 1204USB small format mixer, and recording MIDI with the UMA25s keyboard controller. Each segment clearly demonstrates ease of connection, convenience and portability.
"Recording music has become an extremely user-friendly process now that there are so many tech savvy tools available to us", commented Costa Lakoumentas, Senior VP of Marketing for BEHRINGER parent company, MUSIC Group. "Our goal was to show how simple it is to turn your recording dreams into reality using BEHRINGER products with contemporary mobile technology. I believe we've accomplished that goal with this innovative video series."
The five installment series and a special behind the scenes overview are located at http://www.youtube.com/playlist?list=PL9B264A2941B325A2&feature=plpp.
Individual video locations are as follows:
UFO202 (Used for recording Vinyl)
UCA222 (Used for recording a DJ set)
UCG102 (Used for recording guitar)
XENYX 1204USB (Used for recording a band)
About MUSIC Group:
The MUSIC Group is one of the world's largest holding companies for pro audio and music products brands. As the corporate parent for world-recognized brands such as MIDAS®, KLARK TEKNIK®, BEHRINGER® and BUGERA®, the MUSIC Group owns and manages some of the finest brands in the industry.
The MUSIC Group provides a comprehensive product range covering multiple product categories to a wide spectrum of end-users including professionals, corporations and amateurs, as well as for public and commercial applications. They include loudspeakers, amplifiers, mixers, powered mixers, computer-based recording and DJ products, microphones, headphones, wireless systems, musical instruments and professional lighting systems.
These products can be found in professional and project recording studios, video and broadcast suites, post-production facilities, sound reinforcement applications including houses of worship, stadiums, nightclubs, retail locations and on major musical concert tours.
*iPad® and GarageBand® are trademarks of Apple Inc. BEHRINGER iPad Interface Video Series is not endorsed by Apple Inc, and use of Pad® and GarageBand® trademarks is in no way intended to imply endorsement or sponsorship by, or other false association with, Apple or Apple products.
###