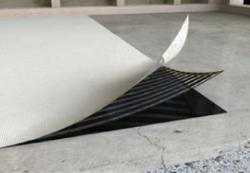 Calorique systems' ease of installation is an inexpensive way to show a home's extravagance
West Wareham, MA (PRWEB) September 12, 2011
Calorique, a global leader in the manufacturing of low cost, energy efficient radiant heat elements, has developed an innovative product line that helps differentiate homes and boost their value by appealing to informed consumer's demand for premiere upgrades—helping home owners increase curb appeal from the inside out.
A lingering financial crisis and its impact on the housing market has left many homeowners scrambling to find a way to get the most value out of their investment.
In addition, people who are moving due to work, family or other reasons, have addressed these legitimate concerns by discovering that low-cost, trouble-free upgrades can serve as an inexpensive way to have their home stand out in the post-recession home market.
Distributors have also recognized the benefits of Calorique's radiant heat technology–including floor heating, home heating, mirror defoggers, and other home solutions–and suggest these products as affordable ways to alleviate home owner's fears of falling under the radar in the aggressive market.
With these innovative offerings and ease of installation, many homeowners are finding Calorique's products to be ideal for people who looking to do-it-themselves and are seeking simple enhancements that go a long way—an investment that can make a difference to home buyers in the current down market.
"With endless options in this buyers market, home hunters need that extra sense of affordable luxury during the selection process," says Darnell Jones of D2 Investments in Atlanta, Georgia. "With Calorique systems' ease of installation, most individuals actually choose to put in the product themselves, making this an inexpensive way to show their home's extravagance."
Calorique's products are synonymous with comfort, particularly for home owners and buyers who value the quality of lifestyle in frugal times, which further supports the fact that a small home upgrade that offers great value is still the best strategy for adding equity to a house.
About Calorique
Since 1980, Calorique has been a global leader in the development of heating technology for residential and commercial applications. The U.S.-based manufacturer located in West Wareham, Massachusetts, at the gates of Cape Cod, is becoming one of the world's fastest growing companies of advance circuitry. Calorique offers a wide variety of solutions that cover many industries from home heating and healthcare to commercial aerospace. Serving more than 25 countries world-wide, Calorique continues to grow as new resellers and distributors add its heating solutions to complement the world's best commercial and residential lifestyle products.
To learn more about Calorique and its products, visit http://www.calorique.com.
For More Information:
Edward Gilmartin
National Sales Manager
Email: e(dot)gilmartin(at)calorique(dot)com
Phone: (508) 291-4224
Toll Free: (800) 922-9276
###