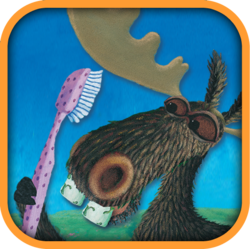 Have you ever seen a Moose brushing his teeth?
Indianapolis, IN (PRWEB) September 12, 2011
Author, Jamie McClaine, launched her idea of promoting good personal hygiene to children with her first app book, "Have you ever seen a Moose brushing his teeth?"Available for iPhone, iPad and Android devices.
This exciting new App Book engages children through rhyming, singsong lyrics and whimsical, vibrant illustrations, and interactive content. Children follow "moose" along on his quest to rid himself of slimy, green, grass and hay-laden teeth. Available on iTunes and Android Market for $3.99
Sling the green slime, brush "moose's" teeth, help him rinse and spit and finish off with necessary flossing are some of the hilarious interactive activities each reader can enjoy.
The young tooth enthusiasts can either read the book themselves or choose to have the book read to them. They can move through the book at their own pace and enjoy each interactive adventure as they choose. Can a moose sing? This tooth-brushing moose DOES and you don't want to miss the fun as he learns the importance of good dental hygiene!
Also download the free new Moose Game with Moose and friends as you master the art of launching his spit through moving rings. Hit Ernie the Eagle and multiply your points rapidly! This fast-paced, addictive game has multiple levels and increasing ring speed as it challenges young and old alike!
Based on the successful book series, "Have you ever seen a Moose," from the author Jamie McClaine:

Read to me
Read along
Play games
Interactive activities
Find out more about the game online at http://mooseandfriends.com/
Interactive book on iTunes: http://itunes.apple.com/us/app/have-you-ever-seen-moose-brushing/id461746150?mt=8
Interactive free moose game on iTunes: http://itunes.apple.com/us/app/have-you-ever-seen-moose-play/id461746994?mt=8
Interactive book on Android: https://market.android.com/details?id=com.jafs.moosebook&feature=more_from_developer
Interactive free moose game on Android: https://market.android.com/details?id=com.jafs.moosegame&feature=search_result
About Plow Games | Plow Digital
Founded in 2007, Plow Digital and Plow Games, LLC, is a creative interactive software developer involved in a wide range of projects for its clients, from web, social media, mobile apps, and game development, for consumer, advertising, and educational markets. To learn more, visit http://www.plowdigital.com
Greg Phillips
Plow Games
317-822-7002 x105
gphillips(at)plowdigital(dot)com
###