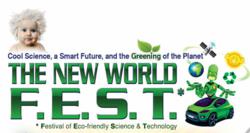 The New World F.E.S.T is a celebration of eco-friendliness and forward-thinking science.
Santa Monica, CA (PRWEB) September 09, 2011
The New World F.E.S.T (Festival of Eco-Friendly Science and Technology), a large-scale, outdoor eco-festival and exposition, will take place from October 7 through October 9, 2011. Fittingly, it will be held just steps from the sand in Santa Monica, CA, a city known throughout the nation for its commitment to sustainability and the environment.
The New World F.E.S.T is a celebration of eco-friendliness and forward-thinking science. Its mission is to present educational content in a desirable setting, and in an entertaining fashion, so that important messages about "a smart future" and "the greening of the planet" are better retained. (http://www.theneworldfest.com)
The F.E.S.T will encompass 95,000 square feet of space, with 150 exhibitors and 6 performance stages offering live music, innovative demonstrations, guest speakers, panel discussions, natural cooking workshops, yoga classes, and family entertainment. The F.E.S.T will feature an eco-theater screening environmentally-focused films and documentaries, a Sustainable Art exhibition with repurposed and recycled objects, live sand sculpturing, a 'spiritual oasis' with health and wellness products/techniques, and futuristic technology ranging from virtual reality to robots.
The New World F.E.S.T is a family-friendly event, with a dedicated children's stage, kids' art, puppetry, a "wildlife way-station", a spotlight on local high school robotics programs, and interactive games designed to appeal to all age groups.
Confirmed speakers include Andy Lipkis, the Founder and President of TreePeople; renowned nature photographer Robert Glenn Ketchum; leading expert on hiking and trails John McKinney (aka "The Trailmaster"); actor, environmentalist, and "world's greenest celeb" Ed Begley, Jr.; award-winning Eco-Architects David Hertz, Eric Lloyd Wright, Nicolo Bini, and Kevin Parkhurst; Greenopolis co-founder Anthony Zolezzi; founder of Mother Earth News Bryan Welch; President and CEO of The Humane Society Wayne Pacelle; raw food expert Bryan Au; natural food chef Deborah Madison; green media personalities Tamara Henry, and Jennifer Grayson of The Huffington Post, and many more.
Confirmed films being screened include Oscar®-winner "The Cove," Sundance-winner "Fuel," plus "Dirt! The Movie," "Vanishing of the Bees," "Save the Farm," the just-released "Freedom," and others. Films will feature live commentary by filmmakers involved in the original productions.
Confirmed artists being showcased include Clare Graham, Cynthia Minet, Dave Lovejoy and Franklin Londin, a two time Oscar®-winning effects animator for Titanic and Spiderman 2. The"Sustainable Art" exhibition is curated by Randi Kreeft, from The Loft at Liz's and SubSpace Art, and Peter Schulberg from Eco Logical Art Gallery.
Musical performers include Naked Rhythm, The Luminaries, Radius Band, Random Ninjas, and special guest Lonnie Marshall (Weapon of Choice, Fishbone) will showcase his latest project The Lil' Big Ups, a unique band comprised of children playing instruments formed from ordinary household trash. World beatbox champion Adam Matta will also perform.
Innovative exhibitors showcasing their wares at The F.E.S.T include one who makes paper from Sri Lankan elephant dung, another who makes jewelry from disarmed and recycled nuclear weapons, and just about everything green from the cradle (eco-diapers)… to the grave (eco-caskets).
Event sponsors including The Sierra Club, Antioch University, Toyota Santa Monica, Sonicbids, Green Tow, Big Mama Earth, The California Fuel Cell Partnership, and The City of Santa Monica's Office of Sustainability and the Environment.
The New World F.E.S.T is being held at Santa Monica Beach Parking Lot 5-South – 2600 Barnard Way, South of the Santa Monica Pier at the intersection of Ocean Park Blvd. and the beach. Dates and hours for the event are Friday, October 7 from 12:00 p.m. to 8:00 p.m., Saturday, October 8 from 10:00 a.m. to 8:00 p.m. and Sunday, October 9 from 10:00 a.m. to 5:00 p.m. Adult admission is $12; children 14 and under are $8, seniors 60 and over are $8, and infants and toddlers are free. Admission includes all music, speakers, films, seminars, stage activities and access to all exhibits.
Additional information on The New World F.E.S.T can be found at http://www.thenewworldfest.com or by calling (855) 500-FEST (3378). Media requests may be directed to Christopher Buttner, contact info above.
###