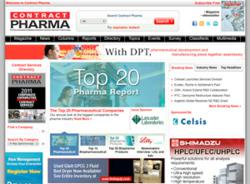 This site is the culmination of months of work by our web staff, editors and sales department. The new ContractPharma.com caters to a wide variety of professionals in pharma and biopharma - By Gil Roth, Editor
Ramsey, NJ (PRWEB) September 14, 2011
Contract Pharma magazine has launched its newly designed website http://www.ContractPharma.com, featuring expanded content, enhanced navigational tools and additional resources that will streamline access to a comprehensive archive of market information and analysis.
With content that covers pharmaceutical and biopharmaceutical contract services and outsourcing, ContractPharma.com will better serve current readers while also reaching a broader audience of key outsourcing decision-makers.
"This site is the culmination of months of work by our web staff, editors and sales department. The new ContractPharma.com caters to a wide variety of professionals in pharma and biopharma," said Gil Roth, Editor. "Both clients and providers have been searching for more cutting-edge content and we will deliver with the new and improved ContractPharma.com."
Deeper & More Accessible Content
The website is organized to provide quick and direct access to all available resources, which include Online Exclusives, Breaking News, Columns, Annual Reports & Surveys, Topics, Industry Events, and much more.
Topics: In an effort to help visitors access thousands of articles from Contract Pharma's 12 years of coverage, we have created a Topics center that contains a growing base of information designed to offer the most relevant news and articles associated with specific categories in the pharma and biopharma outsourcing industry.
Contract Services Directory: In addition to many other online tools, our recently updated, easy-to-use and fully searchable Contract Services Directory of more than 700 companies represents the most comprehensive listing of industry suppliers, contract service providers, consultants and associations.
Site-Wide Search: Still not sure exactly where to look for specific information? Our new site-wide search engine allows visitors to look broadly, or refine their search by content type—such as feature articles, or new products.
About Contract Pharma
Contract Pharma publishes 10 issues, 9 regular print issues (January/February, March, April, May, June, July/August, September, October, November/December) and the annual Company Capabilities and Contract Services Directory.
Our priority is to cover the contract services and outsourcing areas for pharma and biopharma and give decision-makers the best data and opinions for their outsourcing criteria.
We cover market and technology developments, dissect regulatory issues and provide global perspectives unique to drug development and commercialization. We strive to provide Contract Pharma readers with the most comprehensive information relevant to their product development, marketing and business needs.
Subscribe for free to receive print editions of Contract Pharma Magazine
http://www.e-circ.net/cpa/cs2.asp?KEY=CSNEW
Sign up to receive CPDirect, our free, weekly e-newsletter, at http://www.contractpharma.com/newsletters/signup/.
# # #