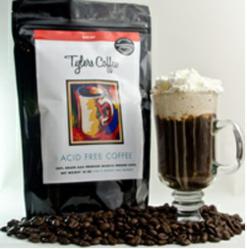 Guests with an acid-restricted diet should be able to expect acid-free food!
Tucson, AZ (PRWEB) September 10, 2011
On September 13th and 14th the world's foremost hospitality and tourism gurus will gather in Miami, Florida at the HD Boutique Conference to discuss new ideas, products, innovations, and to just get the creative juices flowing. Tylers Coffee, a company focused on provided innovative and healthy solutions in the coffee industry will be there. "This is a big step for us," says CEO Tyler Ornstein, "We know this industry is always looking for cutting edge and our products align well with that point of view."
Tylers Coffee produces acid-free coffee with a focus on those who need a low-acid diet. "There are a lot of people out there who have health conditions such has acid reflux and interstitial cystitis who cannot consume foods high in acid. A lot of these people were avid coffee drinkers and we want to help them get their morning back," said Tyler. Partnering with BLLA, the Boutique and Lifestyle Lodging Association, is a logical choice. Not only does it get Tylers Coffee in the hands of some of the most innovative and powerful hospitality and tourism managers, but it also lets those managers focus on their customers by providing healthier choices. Tyler continues, "These hotels and resorts are all about catering to and exceed their guest's expectations. Guests with a wheat allergen expect gluten free food, so guests with an acid-restricted diet should be able to expect acid-free food! And that's why we are here!"
The company is sending out more than 300 samples to various vendors, managers, and gurus and hopes to get into a big name resorts by years end. For more on Tylers Coffee check out their website.
###