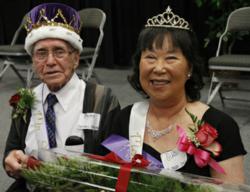 They have so much life experience and can share advice from a perspective many of us can't quite understand.
Salt Lake City, UT (PRWEB) September 09, 2011
Their answers aren't responses typically heard from contestants during the question and answer portion of a beauty pageant. However, Wayne Taylor and Yongsuk "Sue" Orana aren't contestants in a typical pageant.
The 81 and 67-year-old Utahans' are the winners of the 15th annual Mr. & Ms. Golden Years Pageant, an inner-and-outer beauty pageant hosted by the Utah Health Care Association (UHCA). The pageant's 19 contestants answer a variety of questions and are encouraged to share their many accomplishments with the judges and audience. Taylor and Orana both shared in their answers the sentiment that "life is short, do as much as you can."
"We all can learn so much from these folks," said Deb Burcombe, Deputy Director of UHCA. "They have so much life experience and can share advice from a perspective many of us can't quite understand. The pageant is a great way to not only honor them, but also learn from them."
UHCA, an advocacy group representing Utah's nursing and post-acute care home community, hosts the pageant as a way to celebrate the state's senior population and promote continued quality of life for its members. "Everyone who competes in the pageant is a winner," said Burcombe. "It's just part of our mission as an organization to celebrate the incredible lives of these individuals and work to ensure that they continue to live lives worth celebrating."
More about the 2011 Mr. & Ms. Golden Years:
Mr. Golden Years, Wayne Taylor, is from Parkway Health Center in Payson, Utah. He was born Aug 3, 1930 in Salem, UT. He has six children - three boys and three girls. He worked for US Steel and spent much of his free time raising six amazing children. His greatest adventure was serving in the Air Force at Lackland Air Force Base in San Antonio. Wayne was married for 57 years and enjoys meeting people and making new friends.
Ms. Golden Years, Yongsuk "Sue" Orana, is from Mt. Ogden Care and Rehab in Washington Terrace, UT. She was born on Jan 29, 1944 in South Korea. The mother of two boys, Orana worked in graphic design and received degrees from Weber State University. Her greatest adventure in life was her many travels including a trip to Europe. Being a very artistic person, she enjoys giving many of her creations to others.
Utah Health Care Association (UHCA) is the state's largest association of long term and post-acute care providers that advocates for 24-hour, licensed, quality care and services for frail, elderly and disabled Utahans and their families. Formed in 1961, UHCA represents the nursing home community and intermediate care facilities for the intellectually disabled.
###