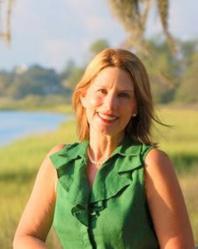 Charleston, South Carolina (PRWEB) September 09, 2011
Daniel Island Real Estate recently welcomed Meryl Cromarty – a former top sales associate for the company - back to its offices. A seasoned Charleston real estate expert, Cromarty was a top sales associate on Daniel Island from 2000-2006. She has spent the past five years in south Florida working in the real estate investment and insurance sectors. The opportunity to return to the Daniel Island Real Estate team brought her back to Charleston, where she is already busy serving clients looking to buy and sell property on Daniel Island.
"I am so grateful to be back home," Cromarty commented. "I am passionate about Daniel Island and Charleston and feel so lucky to have the opportunity to live and work in such a wonderful place. My goal is to help others find the perfect home within our wonderful community."
A graduate of Boston College and a native of Long Island, Cromarty is known locally for her exceptional work ethic and passion for helping others. She consistently qualified as a member of Charleston's "Top Producers Club" and earned the prestigious "Charleston Realtor of Distinction" designation many times over during her former stint at Daniel Island Real Estate.
"We are absolutely thrilled to have Meryl back as part of our sales team," said Rick Vale, Broker-in-Charge at Daniel Island Real Estate. "She already has proven to be an outstanding addition to our team of Daniel Island's top producing sales associates."
A subsidiary of Daniel Island's master developer, Daniel Island Real Estate is the market leader for residential real estate sales in this award-winning master planned community. The company represents the island's largest selection of new and resale homes, homesites, townhomes and condominiums, ranging in price from the $100,000s to more than $5 million.
Part of the City of Charleston, Daniel Island is the city's "island town," with traditional neighborhoods, hundreds of acres of parks, leisure trails, downtown shops and restaurants, corporate offices, schools and churches, professional tennis and soccer stadiums, and a private country club with two nationally-ranked golf courses. Surrounded by 23 miles of rivers and creeks, Daniel Island is centrally located within 20 miles of the city's famous historic district, Atlantic beaches and other area attractions. The community was recognized with a prestigious "Award for Excellence" by the Urban Land Institute in 2007 for its exceptional planning and smart growth principles.
###