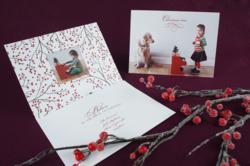 West Kennebunk, Maine (PRWEB) September 16, 2011
What if creating a unique card, personalized in every aspect—from photo, to text, to sound—was as easy as walking into a card shop … or even as easy as browsing a website? Well, now it's just that easy with the new Personalized Recordable Sound Cards from William Arthur.
Personalized Recordable Sound Cards help people bring their imaginations to life! Select a photo. Record up to 30 seconds of audio. Choose words that are perfect for the occasion. And finally, see it handsomely printed on one of William Arthur's stylish papers. If it can be imagined, William Arthur can make it happen …
A few days later, William Arthur's Personalized Recordable Sound Cards or invitations will arrive on their creator's doorstep, ready for that final, personal touch. All she has to do is sign, seal, stamp and send!
Imagine: a thoughtful message, a family's cheerful greetings, a child's laugh. So much can be shared in 30 seconds! William Arthur's Personalized Recordable Sound Cards are the perfect way for everyone to create meaningful, memorable connections with the people they care about – whether it's to celebrate a holiday, extend an invitation, or make a special announcement.
This holiday season, friends and families everywhere will have a new way to connect—and something new to talk about with William Arthur's Personalized Recordable Sound Cards. For more information, or to place an order, visit http://www.williamarthur.com
###