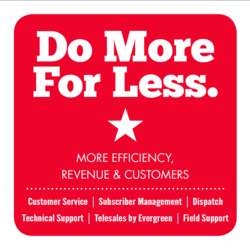 With Salesforce.com working alongside CSG International and LiveOps, cable operators have the ability to be alerted when subscribers, prospects or operations are behaving outside of the norms.
Chapel Hill, N.C. (PRWEB) September 09, 2011
Matt Zemon, president and CEO of American Support, explained how the company is leveraging Salesforce.com and LiveOps contact center-in-the-cloud technology to bolster the operations of its customers during a panel discussion held during Dreamforce 2011 in San Francisco.
"American Support believes the key to success for cable operators is tied to the speed at which they receive actionable data," Zemon told a capacity crowd during the session Amazon Killed the Call Center & Reasons Your Contact Center Belongs in the Cloud.
"With Salesforce.com working alongside CSG International and LiveOps, cable operators have the ability to be alerted when subscribers, prospects or operations are behaving outside of the norms. This empowers them to react faster and take back control of the situation to better enhance the customer experience and to protect their subscribers," he said.
Contact centers in the cloud offer cable operators a foundation of availability, security, scalability, self service, ongoing innovation and disaster recovery, Zemon said. With those areas taken care of, operators can focus on growing their businesses.
Sheila McGee‐Smith, president of McGee‐Smith Analytics and the panel's moderator, said the cloud isn't just about data centers, it's also about applications, such as contact centers. "The reason the cloud works is because it's easier to integrate what is required to deliver a solution," she said.
American Support has been working with Cobridge Communications in implementing the Salesforce.com model for managing the company's customer interactions.
"The combination of American Support's customer service operations with the analytics offered by Salesforce.com has enabled us to streamline our operations creating a more efficient and profitable operation," said Chad Rycenga, Cobridge's CIO and the third panelist.
About American Support (http://americansupport.com)
As the nation's only complete provider of back-office services to the telecommunications industry, American Support focuses on growing revenue & subscribers for our clients. All our clients' customer contact needs are covered with our six products: Telesales by Evergreen, Customer Care, Field Support, Technical Support, Subscriber Management and Dispatch.
American Support strives to help our customers succeed by operating efficiently, consistently and with excellent customer service, making life better for our clients, employees, investors and families, while supporting our country.
From coast to coast, many of America's largest telecommunications companies trust American Support with their customers.
The American Support Product Line Up Includes:
Telesales by Evergreen:
Since 1989 Evergreen Sales & Marketing has been exclusively serving the telecommunications industry with outbound and inbound call center services.
Evergreen has built their reputation by consistently delivering results for nearly all major MSOs and programmers across all product platforms: video, high-speed Internet, digital telephone and other advanced services. Evergreen is certified by the American Teleservices Association Self Regulatory Association (ATA-SRO).
Customer Care:
24 hours a day, American Support provides US-based phone and email specialized support for video, voice and data customers from three traditional call center facilities and a virtual contact center operation spread across 115 US cities.
Field Support:
A full service contracting organization specializing in the telecommunications industry with extensive industry experience in sales, audits, installations, CPE retrieval, field collections, along with aerial, underground and MDU construction.
Technical Support:
US-based subscriber technical support and 24x7 Network Operations Center (NOC) along with Sigma Systems Device Provisioning Manager, Centina Systems NetOmnia™ Fault and Performance Monitoring solution plus private label email.
Subscriber Management, powered by CSG International:
Access to America's largest billing system- CSG International. Our software and services-based solutions help telecommunications providers better build, engage and transact with their subscribers from all touch points including field service calls, online visits, telephone inquiries and monthly statements.
Dispatch:
24/7 dispatch services using workforce automation through CSG International, the largest provider of workforce management and workforce automation solutions for telecommunications providers. CSG workforce products support 30,000 technicians and 3,000 dispatchers by scheduling, dispatching and routing technicians to their job sites.
About Cobridge Communications
Cobridge is a cable television, high-speed internet, and digital telephone service provider. Our goal is to bring advanced services to the communities we serve, while maintaining the highest quality standards and first-class customer service.
Our focus is on customer satisfaction and local service. Each of our systems has local personnel — and because we live in the communities we serve — we want to provide our customers and neighbors with first-class service. In addition to providing a better customer experience, Cobridge employees look forward to playing an active role in the communities we serve.
We believe employee satisfaction is the key to customer satisfaction. Cobridge fosters a close knit culture that is visionary, collaborative, and creative. By listening and caring about our employees, we know they are listening and caring about our customers.
About McGee-Smith Analytics
McGee-Smith Analytics was founded in 2000 to offer enterprises and solution providers an expert and reliable source for information and analysis related to the contact center and enterprise communications markets. A decade later, McGee-Smith Analytics continues to serve clients across a range of industries and geographies, delivering strategic counsel and intelligence regarding the converging fields of contact center, unified communications (UC), collaboration and communications enabled business processes (CEBP).
###