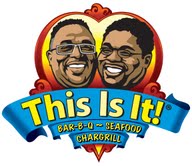 "It's the rib tips!"
Atlanta, Georgia (PRWEB) September 13, 2011
This Is It! Wins National Award for "Best Barbeque" in America
This Is It! BBQ and Seafood beat three nationally known restaurants to win this year's Hoodie Award in the Home Depot sponsored "Best Barbeque" category. Mr. Shelley "Butch" Anthony proudly accepted the award on behalf of his staff and company, Jesus and Butch, Inc. recently at the awards ceremony at the Mandalay Bay Hotel in Las Vegas. The awards show is sponsored by Ford and is produced by top radio and television personality Steve Harvey.
This Is It! BBQ and Seafood beat out three other finalists from other parts of the country including Chicago, Richmond, VA and Southfield, MI. "We are blessed and highly favored to receive this prestigious award," said Mr. Anthony. "Now everyone knows who has the best Barbeque in America!"
Headquartered in Fayetteville, GA, This Is It! BBQ and Seafood has eight restaurant locations around the metro Atlanta area including College Park, Decatur, East Point, Fayetteville, Lithonia, and Smyrna. This Is It! BBQ & Seafood is the best place in town where you can find Soul Food cooked with love and history. The business has grown steadily by serving delicious home-style recipes such as barbeque chicken, barbeque ribs, fresh fish and incredible sides such as macaroni and cheese, collard greens and sweet potato soufflé all complimented with desserts like banana pudding and peach cobbler.
To celebrate this latest honor, This Is It! will sponsor a Customer Appreciation Day on Friday, October 7th 2011 at all locations to thank all the customers, employees and supporters who voted for the restaurant in the recent competition. Lots of special promotions, events and free giveaways will happen at all the locations around town during this celebration.
So what makes "This Is It!" the standard for down south home-cooked meals? "This Is It!" serves a wonderful meal for casual and business dining, all while giving our Lord and Savior JESUS Christ the credit. "This Is It!" also has banquet rooms and catering services. The company remains committed to the community and gives back through scholarships and so much more. The detailed history of This Is It! BBQ and Seafood can be found at http://www.thisisitbbq.com/wall.html.
This Is It! has been featured on CNN, The New York Times and The Atlanta Journal Constitution. For more information, please visit http://www.thisisitbbq.com.
Shelley and his staff are available for interviews and demonstrations. For more information, contact Mignon Johnson at 678-817-7757.
###