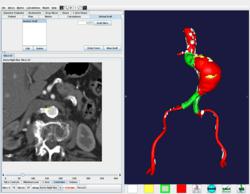 West Lebanon, NH (PRWEB) September 09, 2011
M2S, Inc., a leading provider of patient management and clinical data analysis services, today announced the release of version 3.3.0 of its Preview® Vascular Treatment Planning software. This latest release of Preview adds the Endologix AFX™ Endovascular AAA System and the Gore® Excluder® AAA Endoprosthesis, featuring C3 Delivery System. Preview 3.3.0 also includes updates to all main body stent graft parts, giving the software a total of eighteen virtual stent grafts. Users can interactively plan endovascular procedures with the simulation of these manufacturer-specific virtual grafts prior to surgery through the company's patented Virtual Graft™ technology in the Preview software. Other features of the release were user interface enhancements, such as improving the view of measurements on the 3D model.
As the pioneer in advanced vascular 3D imaging and with a commitment to improving vascular patient outcomes, M2S has set the standard for endovascular patient management services for abdominal and thoracic aortic aneurysms with its Preview software and PEMS® (Patient Evaluation & Management System) registry. M2S's Preview software provides accurate and efficient pre-operative treatment planning and post-operative surveillance through a 3D model and measurement tools. The software tools aid users with the visualization of treatment strategies and achieving optimal surgical outcomes.
Complementing the attributes of Preview, PEMS provides longitudinal tracking of patient progress with access to images and measurement data through a secure, web-based system. PEMS also features customizable alerts on post-operative outcomes, such as aneurysm volume, stent migration, and endoleak presence for efficient and effective patient management.
About M2S, Inc.
M2S provides medical image and data management services designed to improve patient outcomes through clinical data registries, advanced image analysis, and aortic device clinical trials. M2S is the leading provider of AAA and TAA 3D case planning and patient management tools, enabling physicians and researchers to more accurately determine treatment strategies and achieve better outcomes. To date, the company has evaluated over 200,000 radiographic scans of aortic aneurysms. For the past 10 years, M2S has worked with leading academic centers and medical device manufacturers, managing under protocol, millions of images from around the globe. For more information, visit http://www.m2s.com.
# # #