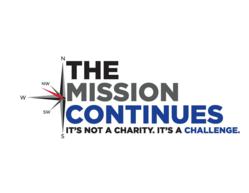 9/11 gave a new generation clear purpose: to serve their country in the U.S. Military.
Now these men and women return from war, ready to lead, but unsure of where or how to do so.
Saint Louis, MO (PRWEB) September 09, 2011
During the two-month period between 9/11/11 and Veteran's Day on 11/11/11, The Mission Continues, the only national nonprofit dedicated to helping post-9/11 veterans rebuild a sense of purpose back at home, will bring together an anticipated 12,000 veterans and civilians to unite for 300 community-based service projects in more than 40 cities across the United States. Averaging five service projects per day, this unprecedented undertaking comes at a time when thousands of soldiers are returning from Afghanistan and Iraq, struggling to reintegrate with civilian life, yet seeking new outlets through which to serve their country at home.
"9/11 gave a new generation clear purpose: to serve their country in the U.S. military. Now these men and women return from war, ready to lead, but unsure of where or how to do so," said Eric Greitens, Navy SEAL and CEO of the Mission Continues. "If America's returning veterans are to make the transition from military to civilian life—not just survive, but truly thrive and lead—it is essential that they reclaim their sense of purpose here at home. The Mission Continues' two-month campaign of national service is an opportunity for vets to assume leadership roles in their communities and to serve alongside fellow civilians in a display of shared purpose and communal pride."
The Mission Continues' two-month campaign of service encompasses 300 community service projects, at which the organization will facilitate a combination of local veteran involvement, grassroots volunteer participation, and on-the-ground operational support. In many cases, the projects are being organized in conjunction with corporate, philanthropic, or nonprofit partners. Two hundred of these service projects are being planned in partnership with The Home Depot Foundation as part of their annual "Celebration of Service" campaign. These 200 projects will provide opportunities for thousands of veterans to utilize their skills and leadership abilities to address critical needs within their own communities.
A recent survey that examined the civic potential of post 9/11 veterans revealed that 92 percent feel that serving their community is important to them, and 89 percent feel that Americans could learn something from their example of service. However, only 50 percent said they feel like leaders in their communities today, showing a clear gap between veterans' desire to serve again at home and the opportunities for them to do so.
On the 10th anniversary of 9/11, The Mission Continues will act as a national program partner to the HandsOn Network and MyGoodDeed, facilitating veteran participation at major service projects in New York City, the District of Columbia, San Francisco, and Boston. These projects are part of this year's national 9/11 Day of Service campaign.
Including these initial events, and extending through Veterans Day, November 11, The Mission Continues will facilitate veteran and civilian participation at 300 unique service projects in more than 40 cities across the U.S , including such far reaching cities as Anchorage, Alaska; Honolulu, Hawaii, and San Juan, Puerto Rico. Service projects will benefit schools, parks, homeless shelters and many other vital community organizations. An anticipated 12,000 volunteers are expected to participate in the events, which are being promoted through grassroots marketing efforts in their respective locales. See attachment for full list of project cities.
According to Greitens: "If we provide opportunities for our veterans to apply the incredible skill sets they gained in the military to address the critical needs within their communities, we'll emerge with a stronger country. And if we are able to engage them in continuing to live a life of service, beyond their uniform, we'll aid this generation in becoming another 'greatest generation' of veterans."
In addition to the 200 service projects to be completed with The Home Depot Foundation, additional service projects will be made possible in part by the generous funding, support, and collaborative efforts of The Mission Continues' philanthropic partners: Goldman Sachs Gives, New Profit, Inc., Southwest Airlines, Target, and Wounded Warrior ProjectTM , and the many other donations of money, resources and volunteerism that have been made in support of the cause.
About The Mission Continues
The Mission Continues is a national nonprofit organization that has committed to transform the lives of post-9/11 veterans by challenging them to serve again as civilians. Founded in 2007 when Navy SEAL Eric Greitens returned from Iraq, the organization offers paid service fellowships to wounded and disabled veterans, awarding over 180 fellowships in 30 states to date. The Mission Continues is reshaping the way this country welcomes home our veterans by showing that these men and women are tremendous assets whose leadership and skills can be vital to their community's improvement. For more information, please visit http://www.missioncontinues.org.
###