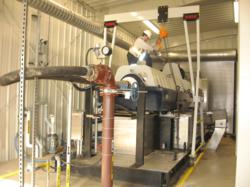 (PRWEB) September 10, 2011
Easily Moved Equipment (eme) was contacted by the Regional Municipality of Niagara to propose a cost effective solution for one of their bio-solids plants. The maintenance lifting problem they needed solving had to do with a dewatering unit on the second floor of the plant. The cost of retrofitting the building with an overhead crane was in excess of $100,000. eme had already supplied the Region with portable, lightweight aluminum davits and gantry cranes for their water and wastewater plants. Based on the ease of use, light weight and portability of this maintenance lifting equipment the Region asked eme for their recommendation.
The proposed solution was accepted by the Region and installed within weeks of receipt of the necessary approvals. The solution consisted of one eme 11000R aluminum Gantry Crane riding on inverted V channels. The Gantry was guided by V groove cast iron wheels. A manual 5 tonne chain hoist was also supplied as part of the package.
With operator safety being eme's primary concern in the design and construction of all of their maintenance lifting equipment lever hoists were provided to move the Gantry in either direction along the rails.
The Gantry was assembled by four persons on the second floor of the building in approximately 45 minutes using just two wrenches. The savings were greater than 80 per cent versus the cost of installing the overhead crane.
eme has been providing water, wastewater, industrial, municipal and rental firms with cost effective, operator friendly maintenance lifting solutions since 2003. In additon to being the first to design, manufacture and install the world's first 5 tonne all aluminum Gantry Crane, eme has installed the first standard radius aluminum 1 tonne davit in 2005 and the first extended radius aluminum 1 tonne davit in 2006. eme continues to provide innovative solutions to their client's maintenance lifting needs such as the revolutionary VRA300 Arm for use in maintaining UV systems and their 2 tonne X-Y Axis portable work cell.
Contact Easily Moved Equipment for innovative and cost effective solutions to your maintenance lifting problems.
###