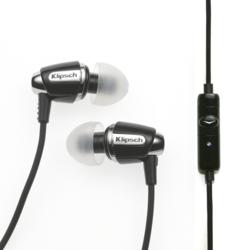 This earphone offers the most robust Android compatibility out there today...
South Hackensack,NJ (PRWEB) September 08, 2011
Headphones.com, a leading online retailer of headphones, earphones, and gaming headsets is excited to announce the arrival of the Klipsch Image S4A headphone for mobile devices and tablets which function using the Android operating system. This headphone is the first to fully function with any Android device operating with Android 2.1 or later.
Utilizing a free application which is downloadable from the Android marketplace, the Klipsch Image S4A has multiple functions for use specifically for phone interactivity, listening to music and watching videos, as well as voice commands. Phone function includes answering and ending calls, muting the microphone, as well as a redial feature. Users have control of volume, play/pause, and the ability to change tracks while listening to audio tracks or watching video files. Complete control is given to the user via voice search and voice command.
"This Klipsch headphone is truly a game changer. There are a good number features packed into a small, very portable device that is simple to use," says Headphones.com Manager, Brian Gluck. "Not only are these headphones jam packed with features that will make life for the average Android user easier, but these users will also be listening to Klipsch quality audio, which is sure to please even the pickiest of audiophiles. This earphone offers the most robust Android compatibility out there today, and having the same voicing as the S4 and S4i (for ipod), we know these sound great!."
Those who buy the Image S4A will be treated to the patented fit of the Klipsch oval ear tips, designed to fit the natural shape of the listener's ear. Another technology built into the headset is the noise-isolating design, used to block external noise and enhance the listening experience.
About Headphones.com
Headphones.com is part of the AlltecStores network. The AlltecStores network consists of several specialty, e-tail websites focusing on audio-visual and technology products. It's main website, AlltecStores.com is parent to several others e-commerce sites, including Headphones.com, ProjectorScreenStore.com, AllCartStore.com, PodiumAndLecternStore.com, AllWhiteboards.com, ProjectorBulbsandLamps.com, NationalAVSupply.com and more. Manufacturers interested in having their products on Headphones.com should contact pr(at)headphones(dot)com. For more information visit http://www.headphones.com.
###