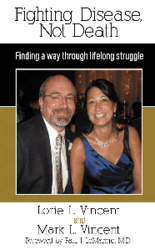 Lorie is considered to be the longest-living person with a diagnosis of leiomyosarcoma, and she intends to continue beating the odds.
Kohler, Wis. (PRWEB) September 15, 2011
When Lorie Vincent's surgeon told her she didn't have cancer anymore, her relief was tempered by surprise; Lorie didn't know she had cancer in the first place. The doctor shrugged off the Vincents' requests for a second opinion, but Lorie's mother insisted that Lorie talk to a pathologist who worked with her. This doctor informed Lorie and her husband Mark that the cancer found in Lorie's uterine lining was, in fact, a particularly lethal form of cancer called leiomyosarcoma, and he sent Lorie to an oncologist. There, the Vincents learned more about Lorie's particular form of cancer, specifically that it is incredibly rare and that it would reoccur in Lori's lungs; 18 months later, a scan found a tumor in Lorie's right lung.
This tumor was the start of an incredible journey for Lorie and her family. Over the next 12 years, Lorie experienced 16 occurrences of cancer, and with help from her physicians and her own deep faith, she managed to fight each one off. Lorie and her husband were repeatedly advised that the end was near, and they should simply enjoy the time that Lorie had left, but they managed to defeat the odds over and over again. Lorie is considered to be the longest-living person with a diagnosis of leiomyosarcoma, and she intends to continue beating the odds.
Fighting Disease, Not Death is more than a story about one woman's amazing battle against a horrifying diagnosis; it is a discussion of Lorie and Mark's faith, and the way that it "sustains them and gives them a reason to remain in service to others." The Vincents and their extraordinary attitude toward this disease are extremely inspirational; their faith in their God and in one another is remarkable, and they share their unique approach to "living and thriving during lifelong suffering" with all who read this fascinating book.
For more information, visit http://www.fightingdiseasenotdeath.com
FIGHTING DISEASE, NOT DEATH
Lorie L. Vincent and Mark L. Vincent
Dog Ear Publishing
ISBN: 978-145750-460-0, 100 pages, $15.00 US
Available at Ingram, Amazon.com, Barnes & Noble and fine bookstores everywhere
About Dog Ear Publishing, LLC Dog Ear Publishing offers completely customized self-publishing services for independent authors. We provide cost-effective, fast, and highly profitable services to publish and distribute independently published books. Our book publishing and distribution services reach worldwide. Dog Ear authors retain all rights and complete creative control throughout the entire self-publishing process. Self-publishing services are available globally at http://www.dogearpublishing.net and from our offices in Indianapolis, Indiana.
Dog Ear Publishing – self-publishing that actually makes sense.
###