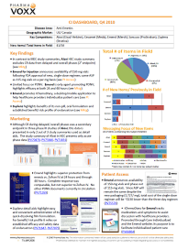 We have found it to be a useful tool in reducing the time spent reviewing the promotional activity of our key market competitors.
Orange, CA (PRWEB) September 13, 2011
PharmaVoxx, a leading provider of competitive intelligence and business analytics for pharmaceutical marketing, today announced its customers will be able to more easily identify key promotional messages and current marketing trends in major disease areas with its Competitor Intelligence (CI) Dashboard.
Compiled from PharmaVoxx's proprietary database of pharmaceutical communications, CI Dashboards communicate competitive issues across multiple functional areas in an organized, easy-to-digest fashion. Major drugs are analyzed for key messages in areas such as marketing, clinical development, and patient access. Teams in marketing, product management, market research and clinical development can use CI Dashboards to further investigate or act on patterns or issues the competitor analysis reveals.
"CI Dashboards can be extremely valuable tools if designed well," says Dao Vo, General Manager at PharmaVoxx. "To increase the usefulness of our CI Dashboards, we partnered with pharma CI professionals at the proof-of-concept phase to analyze readership, content relevance, usefulness of information, and design. We examined the major functional areas that should gain value from a CI Dashboard and what factors contribute to that value."
Regularly prepared by a team of professionals with over 25 years of therapeutic area expertise, the CI Dashboard reduces the amount of work analysts must do. Rather than simply regurgitating information, the report contains thoughtful, relevant insights into competitor promotional activity and current marketing trends that help customers maximize the value of the PharmaVoxx database.
Examples include:

Identification of new DTC print campaigns and scope of messaging focus, such as quality of life, convenience, compliance, and more
Modifications in drug product messaging or claims
Changes in patient savings offers, formulary, or patient access
Notification of new head-to-head comparisons, such as superiority studies
"Finding the time and resources to analyze all the changes in competitor messaging can be challenging," says Millie Quintos Cason, Associate Director of Intelligence at Astellas Pharma. "The PharmaVoxx CI Dashboard condenses a lot of information on competitor activity into a concise summary of informative points. We have found it to be a useful tool in reducing the time spent reviewing the promotional activity of our key market competitors."
Available in most all major disease areas, PharmaVoxx CI Dashboards are included in the annual PharmaVoxx subscription price. Non-subscribers who are interested in purchasing these reports should contact PharmaVoxx for more information.
About PharmaVoxx
PharmaVoxx delivers highly specific, summarized intelligence of pharmaceutical messaging and promotional strategies. More than an online library of marketing materials, PharmaVoxx gives marketing and competitive intelligence managers a full suite of solutions to track-and-analyze competitor promotional activities. For more information, visit http://www.pharmavoxx.com.
###