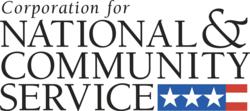 Washington, DC (PRWEB) September 09, 2011
HandsOn Greater DC Cares (HGDCC) will pay tribute to the victims, survivors, and heroes of 9-11 by engaging 10,000 volunteers in three days of service to others across the region. As part of the 10th anniversary of the September 11 attacks, White House and Corporation for National and Community Service staff will join our community to honor those touched by 9-11 by helping veterans battling homelessness to cope with the winter months around the corner.
On Saturday, September 10th Robert Velasco, Acting CEO of CNCS will volunteer along with 200+ White House staff members and U.S. VETS—United States Veterans Initiative— in support of the successful transition of military veterans and their families through the provision of housing, counseling, career development, and comprehensive support. Volunteers will make "no sew" scarves from fleece complete with an awareness ribbon that will be packaged for distribution to homeless veterans. Additionally, volunteers will assemble toiletry kits to be included in the care package.
Every day, volunteers of all ages are giving their time and talents to solve problems and make our country stronger. Whether tutoring at-risk students or providing job training to veterans or responding to natural disasters, ordinary Americans are doing extraordinary things to improve the long-term health and vitality of the nation. Working together, we can usher in a new era in which all Americans are engaged in volunteer service to address local community challenges.
WHAT: Assembly of Homeless Veteran Care Packages for September 11 National Day of Service and Remembrance
WHEN: Saturday, September 10th ; 9:00 AM-11:00 AM
WHERE: West Education Center: 1338 Farragut St. NW Washington, DC
WHO: Corporation for National and Community Service and White House Staff
###