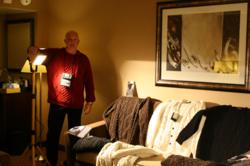 We have 50 knitters in Donegal, Ireland.
Lossett, Donegal, Ireland (PRWEB) September 10, 2011
Order online and within 5 weeks an Irish Sweater will be hand knit to your size and color specifications. From Ireland's shore to your door Donegal Importers is the best place to purchase products hand knit and woven in Ireland.
Donegal Importers presents the "John Murray 100% Hand Knit Sweater" in genuine Donegal wool sourced from Donegal Yarns for 2012. John Murray stated "we are very excited to offer our customers 39 colors for 2012."
Mr. Murray stated "for a lover of Irish Heirlooms these sweaters are knitted by 50 women from both sides of Ireland's cultural divide. Irish women coming together to hand knit for you. All sweaters are hand knit using genuine Donegal Yarns wools sourced from the Donegal Mill at Kilcar and have a genuine Donegal certificate of origin."
Mr Murray went on to say "Donegal Importers is helping to rejuvenate the Irish Cottage Hand Craft industry that so many larger Irish hand knit companies have abandoned to switch to machine made practices. The sweater you purchase is 100% hand knitted in Ireland with Donegal Yarn."
An heirloom of time's past and an investment in authentic Irish quality.
Donegal Yarns provides Donegal Importers over 36 colors to choose from. Wholesale please contact our office in Dublin toll free 888-655-1354.
# # #