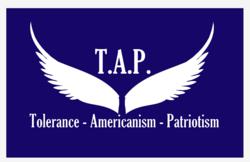 We at TAP America want to reduce the divisive forces in our country by redefining patriotism towards a more inclusive ideal.
Seattle, WA (PRWEB) September 13, 2011
TAP America, a non-profit organization dedicated to strengthening America and its citizens, today announced that it has experienced unprecedented growth since the organization opened its doors in January of 2011. Since this time, TAP has launched several national awareness campaigns aimed at promoting tolerance, encouraging people to stay physically active, and to purchase products made in America.
The Movement Is Catching On
Since the launch of the national Made in America Campaign, TAP America has received hundreds of video submissions from people around the country sharing their personal stories about what it is like growing up in, immigrating to, and living in America. In Q2 of 2011, website traffic to TAP America has increased exponentially, by 125% over the previous quarter in both visits and page views. TAP experienced similar growth between Q2 and Q3 as well. Social media popularity has increased as well on both Twitter and Facebook with engagement increasing three-fold.
In June, TAP was approached by CBS to feature a video on the David Letterman jumbotron in Times Square. The TAP team mobilized and solicited video submissions from around the country to help contribute to the video. According to executive director Richard Tso, "This opportunity gave us the national exposure we needed in order to establish ourselves as the first organization that promotes the notion that 'True Patriots Are Tolerant.' We at TAP America want to reduce the divisive forces in our country by redefining patriotism towards a more inclusive ideal."
TAP America Receives National Attention
Over the last three months, TAP America was featured in TIME Magazine, Associated Press, Los Angeles Times, The Advocate, Seattle Times, NPR, FOX Business Radio, KUOW, JT News, American Fitness Magazine, SGN, SDGN and The Edge Network. In addition, TAP America's leadership team has been featured on local television stations ABC KOMO4 News and NBC KING5 News discussing issues related to tolerance and anti-bullying education.
This July, TAP America appeared in the July issue of American Fitness Magazine for their work promoting a healthy lifestyle through family fitness. According to TAP COO Stephanie Adams, "Families that play together, stay together. Make moving with your family fun, even just for a few minutes at a time, and you will enjoy a happier family and a happier life." The organization provides multimedia content including exercise videos, fitness articles and tips for how to keep fit at all stages of life on their website.
Made In America TAP Merchant Program
"With a deteriorating economy and the recent down-grading of the U.S. credit rating, TAP America believes that an integral part of revitalizing out country is to encourage people to start purchasing goods made in America," said Mark Bloome, Founder of TAP America. "We encourage citizens to begin to demand these products and small-business owners to begin to stock made in the U.S.A. inventory to meet increasing demand and to create a new revenue stream." TAP recently announced their TAP Certified Merchant program to encourage store owners to stock at least 20% of U.S. goods. As incentive, businesses who sign up will be featured in media outreach, be included in the TAP online business directory, and also have the option of being featured in a Groupon-like service called AmeriCoupon that helps people find deals on products made in America.
For more information about TAP America, to volunteer or to make a donation, please visit http://www.tapamerica.org.
About TAP America
TAP America is a 501(c)(3) non-profit organization dedicated to revitalizing and strengthening America and its citizens. Founded in 2010, TAP embodies what it means to be American by promoting patriotism, tolerance and Americanism through education and multimedia educational programs. The tenets of TAP encourage people to be physically active, embrace equality and support the American economy by purchasing products made in America. TAP America Founder Mark Bloome created the organization out of love for his country and its people and a desire to promote patriotism, free from political and economic self-interest. For more information about TAP America or to volunteer please visit http://www.tapamerica.org.
###