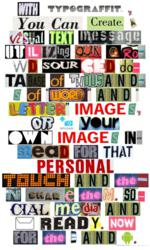 Los Angeles, CA (PRWEB) September 10, 2011
With TYPOGRAFFIT, you can create a photo text message utilizing our crowd sourced database of thousands of "word" and "letter" images, or upload your own images instead for that personal touch—and then SHARE THEM via social media or email. This fun, sociable utilities app has been used for invitations, greeting cards, games and more. TYPOGRAFFIT is now available for the iPhone and Android, as well as online at http://www.typograffit.com.
TYPOGRAFFIT begins with a database of pictures—signs, symbols, graffiti, neon lights, or any other representation of text—and attaches meta-text data corresponding with the word, letter, or symbol each image represents (ie. a neon sign saying "open" will be recognized in the database as the word "open"; a picture of a cat will be displayed when the user inputs the word "cat", and so on). The meta-text data is based on crowd sourced photos uploaded from users throughout the world and, when combined with the user's message input, creates a visual message. For instance, when a user inputs the words you just read in the first paragraph above, TYPOGRAFFIT creates an image-message like the one you see to the right. These messages can be then be shared via most social media, email, as JPEGS or even as links for most chat applications.
TYPOGRAFFIT was conceived late one night in Berlin by Acci Baba who noticed that the plethora of words that dotting the cityscape could also be photographed and reformulated to say virtually anything. TYPOGRAFFIT was prototyped in Copenhagen, engineered in Tokyo, developed in San Francisco, and established in Los Angeles, TYPOGRAFFIT has truly been a worldwide collaboration and, because it's a little bit of everything, it can be tricky to define—photo text message creator, iPhone and Android chat app, a tool for making personalized photo greetings cards and invitations, a word/image database—or simply a visual communication toy perfect for anyone interested in visual communication design and just about anyone interested in creating individualize, great text messages.
TYPOGRAFFIT has been selected as "Jury Recommended Works" in the 2009 [13th] Japan Media Arts Festival. The work was exhibited Feb 3 - 14, 2010, at THE NATIONAL ART CENTER TOKYO.
The iPhone application is currently available. The Android application of TYPOGRAFFIT is available for download worldwide, September 2011. It will be available in two different formats, Lite (free) and Regular ($0.99). The difference between the free and paid versions of the app are as follows:
TYPOGRAFFIT LITE (free)
** Banner advertisements
** Word limit of 300 for each message
** Watermark on each visual text
TYPOGRAFFIT ($0.99 / €0.99)
** No banner ads
** Word limit of 1000 for each message
** No watermarks
TYPOGRAFFIT messages can be posted virtually anywhere. Users have the following options:

Save as a JPEG
Link to Facebook, Twitter, etc.
Copy the link and use it in chat applications
Send it via e-mail to friends
Link to the text directly
API is available
Once created, messages can be sent in any language supported by the app's database.
Users must register for a free account on the application's website in order to upload their photos to the TYPOGRAFFIT database.
###