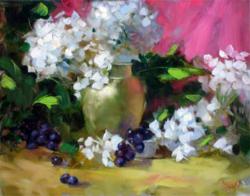 I am thrilled to be selected in a state that has so many wonderful artists!
Prescott, AZ (PRWEB) September 13, 2011
Commission portrait painter Chris Saper has been selected as one of Arizona's top 100 artists for the AZ Best Fest.
Throughout the year, three Best Fests will take place, one in each of the State's territorial capitals, Prescott, Tucson and Phoenix. The AZ Best Fests will host selected top artists in Arizona, representing a variety of media, including painting, sculpture and glass.
Nationally known for her commissioned portrait art, Saper will also debut a new series of still life and floral oil paintings. "I love the freedom to use fresh, vibrant color in creating this new body of work. It's definitely looser and more painterly than my typical portrait commissions," Saper says. "And best of all, fair-goers will be able to purchase my still life paintings at pre-gallery pricing levels."
Saper, along with other artists and entertainers will demonstrate her craft during the weekend-long event, both portrait painting and florals.
To see more still life and floral work, visit Saper's blog
# # #