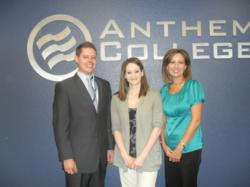 Ashley exemplifies what a healthcare professional strives to be, caring and compassionate. She demonstrated perseverance through challenges that many would have taken the easy road on.

--Janet Mack, Campus President, Anthem College-Aurora
Aurora, Col. (PRWEB) September 14, 2011
Ashley Roberts, a Surgical Technologist student at Anthem College-Aurora, near Denver, is one of 16 students from around the nation to receive a scholarship from the Foundation for Surgical Technology this year.
The Foundation is sponsored by the Association of Surgical Technologists, the oldest and most widely recognized professional organization for surgical technologists and surgical assistants.
"Ashley has always shown great professionalism and demonstrated great skills while enrolled in our Surgical Technology Program," says Chad Skurdahl, who chairs the Surgical Technology program at Anthem College-Aurora. Skurdahl cited Roberts' "enthusiasm and willingness to both learn and mentor other students" as one of her key strengths.
Roberts, who was diagnosed with Acute Lymphoblastic Leukemia at age 10, says that her decision to study surgical technology is largely due to her positive experiences with surgical teams from a young age. "To this day, I remember going to surgeries so terrified, and the surgical team always did everything they could to ensure I felt safe in their care," she says. "I want to give back in the same ways that I was helped during this extremely difficult time in my life."
"Ashley is a true leader and demonstrated perseverance through challenges that many would have taken the easy road on. She exemplifies what a healthcare professional strives to be, caring and compassionate," says Janet Mack, Campus President for Anthem College-Aurora. "As a student, she set the bar high, not just for herself but for her classmates. We know she will have every success in her future as a Surgical Technologist."
About Anthem College-Aurora
Originally established in 1994, Anthem College-Aurora is part of Anthem Education Group (AEG), a Phoenix, Arizona-based family of schools and colleges that provides career-focused training and education programs at 23 accredited institutions in 15 states and Anthem College Online. The AEG family of schools includes Anthem College, Anthem College Online, Anthem Career College, Anthem Institute, Morrison University, and The Bryman School of Arizona. For more information, visit http://anthem.edu.
For more information about our graduation rates, the median debt of students who completed the program, and other important information, please visit our website at http://www.anthem.edu/disclosures.
###