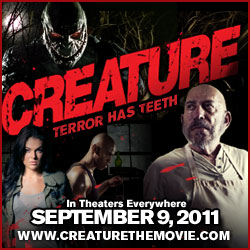 Los Angeles, CA (PRWEB) September 08, 2011
There will be three 'Creature' horror film opening weekend related events (http://www.CreatureTheMovie.com) taking place starting tonight, Sept. 8th with a special promo screening, followed by 2 live events Sept. 9th and 10th featuring various members of the film's cast and crew taking part in Q&A and signings.
Tonight, Thursday, September 8th, 'Creature' will be featured in a special promo screening at 9pm PDT at the AMC Burbank 16 Theater, located at:
125 Palm Ave
Burbank, CA 91502.
Friday, September 9th, 'Creature' actress Amanda Fuller, who plays 'Beth' in 'Creature,' and director Fred M. Andrews will appear at 8:10pm PDT at the world famous Chinese 6 Theater, located at 6801 Hollywood Boulevard, Hollywood, CA 90028, to greet the audience and answer 'Creature' fan questions prior to the film's start.
Saturday, September 10th, 'Creature' director Fred M. Andrews, writer Tracy Morse, and EFX artist Jerry Constantine will appear at 4:00pm PDT at 'Dark Delicacies,' located at 3512 W. Magnolia, Burbank, CA 91505, to offer behind-the-scenes film insights and sign 'Creature' posters.
About Creature http://www.CreatureTheMovie.com
An ex-Navy seal (Mehcad Brooks), his girlfriend (Serinda Swan) and their friends head out on a road trip to New Orleans. The group decides to stop at a roadside convenience store owned by Chopper (Sid Haig), who tells them the tale of Lockjaw, a fabled god-like creature who is half-man, half-alligator.
The legend has it that an inbred local man by the name of Grimley (Daniel Bernhardt) lost his family to a monstrous white alligator, which then drove him to madness and some believe he was transformed into that very creature that now haunts the depths of the swamps. Their curiosity peaked, the group decides to play along with the local tourist trap and journey deep into the backwoods to find the old dilapidated cabin which is supposed to be the birthplace of the creature.
As they set-up camp for the night, their faith is put to the test when Lockjaw turns out to be more than just a myth and they realize the locals are hiding a horrifying secret that jeopardizes them all.
'Creature' is released by Bubble Factory, written by Fred M. Andrews and Tracy Morse, directed by Fred M. Andrews, produced by Sid, Jon, and and Bill Sheinberg and stars Mehcad Brooks, Serinda Swan, Amanda Fuller, Dillon Casey, Lauren Schneider, Aaron Hill, Daniel Bernhardt, and Sid Haig. 'Creature' introduces a new monster legend into the horror film lexicon.
Press Contact
Name: Alex Klenert
Email: ak(at)prodigypublicrelations(dot)com
Tel.: 310-857-2020
# # #