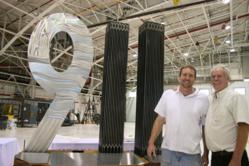 9/11 was a wakeup call for America
Buffalo, NY (PRWEB) September 09, 2011
Look at many of the buildings in Buffalo, NY and you'll probably find a little bit of Ed and Brian Hogle. Ed and Brian have been part of the Buffalo construction industry for over 25 years, supplying structural steel and even a little art to some of Buffalo's most popular businesses.
These days their company, Steel Crazy Iron Art, is working on something very close to their hearts and close to the hearts of all Americans.
"We're designing a 9/11 tribute sculpture," Ed says, smiling. "It's something we're all working very hard on."
The finished sculpture, called Standing Tall, will stand at a little over 7 feet high, 10 feet long, and will be inscribed with the names of the 3,043 lives that were lost in the attacks. It is the result of 6 artists putting in over 400 man hours on the project.
As a former Canadian, Ed came to the U.S at the age of 17 became a citizen via the U.S Army.
"I knew this piece was something I wanted to do from the moment we were approached with it. We were asked to design a tribute sculpture that would be displayed at the Niagara Falls Air Base on 9/11 2011 for their air show and I'm very proud of what we've come up with."
It's no surprise that Steel Crazy was chosen for the piece. The company has an entire department dedicated strictly to Military art. The Military Artwork by Steel Crazy website carries everything from wall hangings to awards, dog tags and challenge coins. Each Military art piece can be customized to include unit insignia.
"We will create a gift with specific company insignia," Ed says.
Ed's dedication and the dedication of the entire Steel Crazy squad is just one of the reasons the company stands out and why it was chosen for the 9/11 project.
"9/11 was a wakeup call for America," Ed says. "It was this generation's Pearl Harbor. The Standing Tall tribute sculpture is something we'd like to take on the road."
Ed's goal is to find sponsors for the tour to help promote the sustainability of Chris Kreiger's "WNY Heroes", an independent outreach program for returning Veterans who come home with identity and emotional issues.
"Every American city has its hometown heroes," Ed explains, "and a country-wide, self-administered program like Krieger's would be a good way to recognize and support them."
The Standing Tall sculpture is a symbol of the wakeup call that has taken place in America.
It is a symbol marking the beginning of our war on terrorism. It is a reminder to slow down and reflect for a moment. As you read some of the names, you can't help but wonder; did these people die in vain? Or were they a part of the wakeup call? That defining moment that struck so loudly it couldn't help but make us realize this is war.
Ed's greatest belief is that we all need to be thankful, and rather than just saying "thanks", he'd like to show his gratitude. He'd like to be one of the people who helped when the time comes to say "Here is a place for you because you deserve it." Or "Veterans are welcome here, not only to socialize and relax, but to receive legal help, emotional help, or whatever other help they may need".
He aims to do that through the Standing Tall tour.
"Standing Tall" will be on display at the Niagara Falls Air Base on Saturday September 10th and Sunday, September 11th, 2011. The official tour will kick off with a first stop at the Museum of the Marine at Camp Lejeune in North Carolina on September 23, 2011.
To view some of Steel Crazy's other Military art projects; you can visit them at http://www.militarysteelartwork.com/.
###