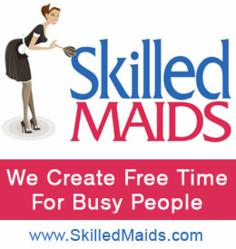 Success does not come from sitting around complaining about the economy. It comes from perseverance
(PRWEB) September 09, 2011
Cleaning services in Maryland is an industry that is about to get a whole lot of attention from homeowners who can benefit and enjoy some free time. Skilled Maids is ready to go live to help busy people have some real quality free time and enjoy life more, simple as that.
If you've spent time in the military then you must be familiar with the white glove test. This is where the commanding officer takes the brand new white glove and runs it through the barracks to see if there's any dust or grease left behind after cleaning detail has done their job. Skilled Maids invites those wanting to do their own version of the white glove test after them. They pride themselves in their attention to detail.
Just like many other industries, cleaning services have been no exception to taken a hit on this economic downturn, but Skilled Maids has managed to withstand the winds of the tough economy and are now ready to explore the internet.
"Success does not come from sitting around complaining about the economy. It comes from perseverance" Says owner of Skilled Maids, Liliana Lima.
Skilled Maids provides professional housecleaning services for the Washington DC metropolitan areas like Southern Maryland and Northern Virginia.
Skilled Maids Cleaning Services
703-459-4286
866-459-4287
skilledmaids.com
###