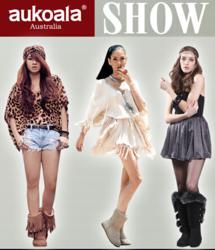 We are extremely pleased with our success thus far. It has become clear that fashionistas all over the world keep in contact via the web and media. We look forward to our continued growth as more of our fans spread the world.
NY, USA (PRWEB) September 27, 2011
Today's trendsetters are taking notice of Aukoala, an Australian originated uggs brand. Genevieve Farha, owner of Bricks Clothing store in the United States says, "Aukoala's brand boots offer higher fashion and better quality than their UGG brand counterparts." This fall 2011, Aukoala proudly introduces their new winter boot arrivals.
Their bestsellers include the "Eskimo," "Bertha" and "Nisana." They can be found on the company website http://www.aukoala.com/. Aukoala boots are made of Australian sheepskin and incorporate a range of elements such as, fringe, rivets, metallic's, and fur. Customers choose from a large selection of knee high boots, classic pumps, ankle booties, or open toe sandals.
General Manager at Aukoala, Geoffrey Ren, comments, "We are most excited about presenting our new D.I.Y. (do-it-yourself) boot. It is a new concept boot and revolutionary in the way people wear footwear."
The D.I.Y. boot will be released this October.
Aukoala is not only for women. Men and children can browse through a wide selection of winter boots. Warm accessories, such as sheepskin scarves and gloves are also available.
Top stylists from all over the world are raving about Aukoala. The popular models from the fashion website, lookbook.nu, can be seen wearing Aukoala's boots with particularly stylish ensembles. Konstantina, a fashion expert and model from Rome, says, "These ugg boots were loved at first sight! Have you ever seen something and besides the weather you wanted to wear it so bad? That's exactly what happened to me. When I first saw them in Aukoala Australia Official Site, I did not hesitate! These uggs are certainly made for walking."
As of September, 2011, Aukoala Inc announced their launch into the Chinese market. According to a Boston Consulting Group report, China's fashion industry is set to become the world's second fashion market by 2020, and will account for about 30 percent of the global fashion market's growth over the next five years.
Aukoala Inc plans to open 30 stores in China this coming year.
With the youth of the company and little marketing, the creators of Aukoala are thrilled at how quickly people are finding their brand. Geoffrey Ren, general manager says, "We are extremely pleased with our success thus far. It has become clear that our fans all over the world promote our brand via the web and media. We look forward to our continued growth and exploration into the Chinese market."
###