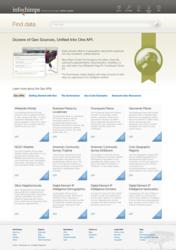 Austin, TX (PRWEB) September 09, 2011
Infochimps, a data marketplace to find, share and build on data, today announced that Locationary, the authority on local data management and crowdsourced local business data, will join the Infochimps Geo API line up. Providing quality business information organized by geographical whereabouts, Locationary is an ideal partner in building out the Infochimps Geo API collection, which encompasses any data that can be tied to a location. Locationary boasts an impressive volume of business information that is also rich with precise detail and up-to-the-minute edits.
Together with Locationary, the Infochimps Geo API provides developers with access to millions of data points powerfully, nimbly and simply. Delivered through one endpoint, the API provides data for use on maps, applications, and visualizations. The resulting library includes multi-dimensional geo data from diverse sources, so that developers can easily select the data needed for applications and programs. Infochimps' unified interface delivers consistent formatting across providers to facilitate seamless data integration, no matter the source or nature of data.
Harnessing the publishing speed of online and the data integrity of its sophisticated local data management system, Locationary's data is more comprehensive and more current than the antiquated methods of traditional business data directories. Locationary has over 17 million U.S. business places across 23 thousand U.S. cities with over 20,000 contributing members.
Locationary provides a combined business owner, publisher and crowdsourced database offering with local business data constantly being updated around the world in over 40 languages. The freshness of data is predicated on the idea that proximity and community monitoring will facilitate fast and accurate information updates, as locals around the world know what's happening in their communities faster than anyone else. If a business opens or closes, the locals know first. If the phone number is wrong, or the location is inaccurate, they know how to fix it. Locationary's data is becoming the most accurate and recent because it is updated and verified by a global community of editors.
Features of the Infochimps Geo API that make accessing and working with Locationary's data easy, include:
More Ways To Ask The Questions You Want: Multiple Locator Options
Standard geographic locators like street address, bounding box, and latitude and longitude can be used to query any data source in the Geo API. Need to find Locationary businesses within a bounding box? The Infochimps Geo API can handle it. Furthermore, any dimension that can be mapped back to a location can also be used to query. Want to know the weather near a Locationary business? Just ask the API that exact question and get an answer right away.
There's A Lot of Data Out There: Summarizer Allows for Easy Rollups at Higher Zoom Levels
Another pain the Geo API solves is handling the flood of data that occurs when zoomed out to a large radius. Providers, like Locationary, manage an ever-growing volume of data entries, presenting challenges with mapped visualizations at large radius zoom. The Geo API provides intelligent groupings of results through its Summarizer feature. For example, there are over 100,000 schools in the U.S. and to display these results on a single map of the U.S. would be impractical and not very useful. The Summarizer intelligently organizes these schools as 100 groups of 100 schools. Upon zooming further, these groupings get smaller and smaller until the schools are shown individually.
For more information on how to access Locationary's data as well as the myriad of other data sources through Infochimps Geo API, visit: http://www.infochimps.com/apis/geo.
About Locationary
Locationary is the leading local data services company focused on improving the quality and distribution of local business places data for mobile and web published content, search, daily deals and navigation apps. Locationary's mission is to help companies realize the full potential of local search, advertising and commerce. Services include Data Origination, Data Cleaning, Publisher ID Mapping and Federated Data Management of domestic and international local business places data in a secure cloud-based system. The company was named one of "Canada's Hottest Innovative Companies" in the 2010 CIX Awards. Locationary is a privately-held, venture-backed company with offices in Toronto, Canada and Palo Alto, California. For more information visit http://www.locationary.com or follow at @locationary on Twitter and Facebook.
About Infochimps
Infochimps is a leading data-as-a-service provider whose mission is to democratize the world's access to structured data. Initially the brainchild of two graduate physics students at the University of Texas, Infochimps is indexing and connecting the world's data and making it usable. Infochimp's cloud-based technology platform sources, queries, and analyzes over 15,000 data sets, allowing our customers to focus on building the next generation of data-driven applications. Infochimps is a privately-held, venture-backed company based in Austin, Texas, with offices in San Francisco, California.
For more information, please visit http://www.infochimps.com or follow @infochimps on Twitter.
###