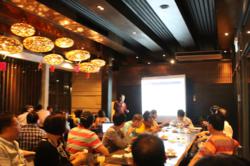 (PRWEB) September 11, 2011
"一杯浓茶,一份情意" (translated as "A heartfelt appreciation with every cup of tea") aptly represents our well wishes to our clients this Mid-Autumn Festival. To share the festive joy, Phillip CFD held a special Mid-Autumn Festival Celebration on 19 August 2011 to show our appreciation to our privileged clients. The fun and light-hearted event was held at the Vineyard@HortPark.
Guests were welcomed by specialty chefs from Kwong Cheong Thye restaurant who demonstrated the art of making mooncakes. Guest were given the opportunity to try their hands at moulding their own mooncakes under the guidance of the chefs.
Apart from wining and dining our clients, the CEO of Phillip Securities Research, Mr Chan Wai Chee, drew analogies from the song "Bad Moon Rising" to talk about the seemingly pessimistic markets. However, he recommended looking at buying Blue Chips and certain S-chip companies as they are fundamentally sound and are currently of good value.
We were also honoured to have Ms Sharon Xue, Chief Financial Officer of Hu An Cable, to share with our guests more about Hu An Cable, one of China's top wire and cable manufacturers. She also gave an insightful account on the company's future plans in the coming years. For example, Hu An will be dual-listed on the Taiwan Stock Exchange next year and this will give the company new influx of capital for expansion within China.
As the event came to a close, Mr Michael Wong, Director of Business Development presented a Samsung Galaxy Tab to our "Best Dressed" individual - Mr Chng Chee Boon, who was decked in a striking traditional top that caught our judges' eyes. The evening ended on a high note as each guest was presented with a box of mooncakes courtesy of Phillip CFD.
Mr Wong concluded that the current times may be volatile but it does not mean that one should not continue trading. Instead, this is the time to tread carefully and look to products such as CFD where one is able to potentially profit from bullish or bearish positions. However, CFDs are leveraged products and do carry a high amount of risks. Investors should consider if the investments are suitable for them before investing.
###