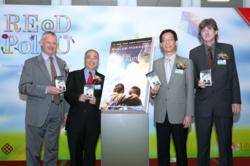 (PRWEB) September 09, 2011
With the launch of READ@PolyU programme, about 2,500 first-year-first-degree students of The Hong Kong Polytechnic University (PolyU) will each be given an English novel for free. They could also join the discussion sessions and various activities to share their thoughts and common experience with staff and fellow students.
READ@PolyU is the territory's first campus-wide common reading programme among local universities. This initiative is a major endeavour of PolyU to enhance students' language ability and appreciate multi-cultural issues with reference to the local context. The selected book for 2011/12 is The Kite Runner by Khaled Hosseini, a bestseller which takes readers from Afghanistan in the final days of the monarchy to the present.
A special ceremony commemorating the launch of READ@PolyU programme was held today (8 September) at the University's Pao Yue-kong Library, with PolyU President Professor Timothy W. Tong, Vice President (Academic Development) Professor Walter W. Yuen; University Librarian Mr Steve O'Connor and Head of English Language Centre Dr Bruce Morrison as the officiating guests.
Professor Tong said, "Reading is not only an important means of learning from the written work of scholars, but also a vehicle to stimulate our imagination, develop our ability to think critically as well as enhance our creativity in solving problems and envisaging different solutions to different situations."
To show her support for the programme, PolyU Council Chairman the Hon. Marjorie Yang has also joined as a facilitator of the reading group to meet with students. In addition, around 100 staff members and students from different departments have enrolled to serve as facilitators.
The University received a total of 51 nominations of book title for the READ@PolyU programme. After the close of open nomination period, the titles were then reviewed by a committee co-chaired by Mr Steve O'Connor and Dr Bruce Morrison.
In conjunction with the launch of READ@PolyU, the University Library has staged a series of photo exhibitions on Afghanistan from now until 4 October exclusively for the PolyU community. This event is made possible with the courtesy of famous American photographer Mr Luke Powell, who has kindly provided 188 pieces of his work from 1970s to 2000s for the exhibition.
Press contact: Ms Sam Lam
Marketing Manager, Pao Yue-kong Library
Tel: (852) 3400 3197
Email: lbsam(at)polyu(dot)edu(dot)hk
###