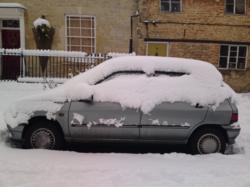 But most importantly, if conditions are really treacherous you should just consider postponing the journey and staying at home.
(PRWEB UK) 9 September 2011
The IAM (Institute of Advanced Motorists) is advising motorists planning to fit winter tyres to order them now to beat the rush.
In countries where severe winters are guaranteed, it is quite normal for drivers to switch to winter tyres. This is becoming more common in the UK because of harsh winters over the last two years.
Winter tyres have a different tread pattern to give better grip on snow and ice and have a snowflake on a mountain as a symbol on the sidewall. The symbol indicates that they use winter grade rubber which stays flexible and maintains grip to well below freezing. The rubber used on standard tyres hardens as the temperature drops.
Winter tyres are not suitable for all year round – regular tyres give better performance when temperatures are higher and roads dry – but they do make sense for drivers living in more remote areas where winter conditions are likely to be more severe for longer or for those who feel they have to travel no matter what the weather.
An alternative to changing tyres is to carry snow chains or snow socks to fit when the snow gets deep. Snow socks are made of a strong fabric which grips snow – they stretch to fit over the tyre. Either of these can be used with standard tyres and they fit quite easily into a corner of the boot, or garage in summer.
IAM chief examiner Peter Rodger said: "The weather we experience in the UK is nowhere near as severe as many other countries, but with the past two winters having been particularly bad, motorists in the hardest-hit areas may feel reassured to have the extra grip winter tyres afford.
"But weigh up the expense. A full set will cost £400 - £500, and most drivers won't detect any significant difference in grip until the temperature is freezing. Most importantly, if conditions are really treacherous you should just consider postponing the journey and staying at home. Even if the mercury drops to below zero, safe and sensible driving will mean you shouldn't have any cause for emergency stops, and so little need to test your tyres to their limits."
Whatever tyres are fitted, regular checks of tread depth and pressure are even more important in winter. Performance in snow, ice or sub-zero conditions will reduce significantly if the tread depth falls below 3mm. Pressure should be checked with the tyres cold – that means they should have been driven no more than a mile.
Do not be tempted to reduce pressure to increase grip. Tyres with low pressure do not have any more grip and are prone to overheating and blowouts.
Notes for Editors:
1. The IAM is the UK's largest independent road safety charity, dedicated to improving standards and safety in driving, motorcycling and cycling. The commercial division of the IAM operates through its occupational driver training company IAM Drive & Survive. The IAM has more than 200 local volunteer groups and over 100,000 members in the UK and Ireland. It is best known for the advanced driving test and the advanced driving, motorcycling and cycling courses. Its policy and research division offers advice and expertise on road safety.
ENDS ALL
Media contacts:
IAM Press Office – 020 8996 9777
press.office(at)iam.org.uk
ISDN broadcast lines available
iam.org.uk
###