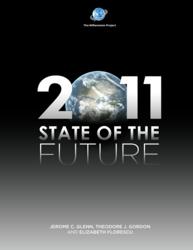 Futurists, strategic planners, and scholars around the world assess the global situation and prospects for the future
(PRWEB) September 09, 2011
The 2011 State of the Future is a comprehensive and informative overview of our global situation, problems, solutions, and prospects for the future, giving us the world's report card.
According to the findings of The 2011 State of the Future, the world is getting richer, healthier, better educated, living longer, and is more peaceful and better connected; yet half the world is potentially unstable. Food prices are rising, water tables are falling, corruption and organized crime is increasing, environmental viability for life support is diminishing, debt and economic insecurity are increasing, climate change continues, and the gap between the rich and poor is widening dangerously. The findings suggests that the world is in a race between implementing ever-increasing ways to improve the human condition and the seemingly ever-increasing complexity and scale of global problems. So, how are we doing in this race? What's the score so far? What are some strategies to improve our prospects?"
The 2011 State of the Future addresses these questions with input from futurists, business planners, and scholars around the world, who work for governments, universities, NGOs, corporations, and UN and other international organizations. This year's report has chapters on the future of the Egyptian revolution, 15 Global Challenges, scenarios for Latin America, environmental security, and future elements of arts, media, and entertainment that could better bring what's important for the future of civilization to the public.
"A must read for any decisionmaker", according to Enrique Peña Nieto, Governor, State of Mexico; "The best introduction to the major global issues and long-term remedies" says Global Foresight Books; "Everyone, and I mean everyone, should read this incredible document, period" by Technological Forecasting & Social Change; "Invaluable insights" according to Ban Ki-moon, UN Secretary-General.
Date: September 13, 2011
Time: 9 AM Breakfast
9:30-10:30 Discussion
Venue: 5th Floor, Woodrow Wilson International Center for Scholars
One Woodrow Wilson Plaza
1300 Pennsylvania Ave. NW
Washington, DC 20004-3027
+1-202/691-4000
Speakers: Jerome C. Glenn, co-author, 2011 State of the Future
David Rejeski, Woodrow Wilson Center
Paul Werbos, National Science Foundation
Jonathan Peck, President, Institute for Alternative Futures
The Millennium Project was established in 1996 as the first globalized think tank. It conducts independent futures research via its 40 Nodes around the world that connect global and local perspectives. Nodes are groups of individuals and institutions that pick the brains of their region and feedback the global results. It is supported by UN organizations, multinational corporations, universities, foundations, and the governments of Azerbaijan, Kuwait, South Korea, and the United States. This is not the "UN Millennium Project" headed by Prof. Sachs that produced scholarly papers to address the 8 Millennium Development Goals several years ago. Copies of the 2011 State of the Future will be available at this event. The event will be taped and available at http://www.wilsoncenter.org several days later.
###