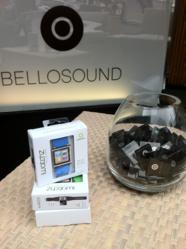 (PRWEB) September 09, 2011
iWatchz, creator of luxury iPod nano watch bands, is pleased to announce that they are teaming up with Daniel Buckman of BELLOSOUND during the 2011 Toronto International Film Festival (TIFF). Throughout the festival, from September 8th-18th, Daniel Buckman and the BELLOSOUND team will make rounds at TIFF events with iWatchz iPod nano watch bands for giveaway.
TIFF 2011 enthusiasts can celebrate with BELLOSOUND and get iWatchz bands at events occurring at the Four Seasons Hotel Toronto, from September 8th-10th, and The Ritz-Carlton, Toronto, from September 8th-18th. At each event, BELLOSOUND will be providing daily and nightly live DJ performances and giving away some colorful Q Collection iPod nano watch bands.
All are encouraged to take advantage of the opportunity to grab an iWatchz band and party to the sounds of BELLOSOUND, alongside some of the film industry's top celebrities.
For more information about BELLOSOUND, please visit http://www.bellosound.com/, and to learn more about iWatchz iPod nano bands, please check out http://www.iwatchz.com/.
About iWatchz
Founded in September 2010, iWatchz developed and engineered their patent pending clip system, and stylish watch straps, for use with the Apple iPod nano®. Their passion is to design fashionable and functional products for the discerning consumer. For more information, please visit iWatchz.com.
Connect with iWatchz on Twitter at twitter.com/iWatchz and on Facebook at facebook.com/iWatchz.
About BELLOSOUND
Founded in 2006 BELLOSOUND is transforming the way people experience music in restaurants, hotels, retail and corporate environments, as well as private homes. They partner with private and corporate clients, offering a range of services that include audio consulting, music programming, live DJ performance and artist promotion. Founder Daniel Buckman started his career in artist management and then moved to SONY Music Canada. Daniel has built one of the most sought after DJ teams in Toronto.
Tune in to BELLOSOUND at bellosound.com, visit the MUSIC MATTERS blog at bellosound.com/blog, and check out BELLOSOUND on Twitter at twitter.com/BELLOSOUND.
# # #