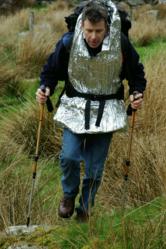 …an essential for any emergency kit – whether for hill work or watersports
Houston, Texas (PRWEB) September 12, 2011
All Blizzard Survival products are made from the innovative and revolutionary Reflexcell™ material. The triple layer Reflexcell™ technology provides insulation through its honeycomb structure, which traps air and keeps core body temperature constant through extreme weather scenarios. Interwoven elastic draws the material to the body and reduces cold spaces and heat loss by convection and its silvered surfaces block heat loss by radiation. The Blizzard Survival products are also compact, lightweight, durable, and weatherproof. The products are designed for use in any outdoor situation. From skiing in Colorado to hiking the Rockies, the compact design makes it easy to pack and easy to wear.
The Sunday Times calls Blizzard Survival technology "an ideal safety solution for skiers and fell-walkers." A solo expeditionist from the UK states that the use of the Blizzard Survival products will keep one "warm no matter the weather outside. The weight saving is too much of an advantage for any athlete to look over when wanting to travel light and fast, nothing compares."
In North Wales, UK, a professional emergency trainer notes that the "Blizzard Survival products are real life savers. They are seriously warm, low weight and volume, and easy to carry and deploy…an essential for any emergency kit – whether for hill work or watersports."
Fifteen years ago, Derek Ryden, the founder and managing director of Blizzard Survival, conceived the idea of Reflexcell™. Ryden realized that outdoor enthusiasts and professionals needed something more effective than plastic bivvy bags and lighter than conventional sleeping bags. Now, following exhaustive in-house testing and trials performed by the US Army Institute of Surgical Research, the Blizzard Survival Blanket has been endorsed by the US Army Medical Center Directorate of Combat and Doctrine Development and is the only blanket used to train Army medics in the treatment of hypothermia. In 2009 Blizzard received the Queen's Award for Enterprise: Innovation, solidifying its place as the number one product for thermal protection.
In its infancy Blizzard Survival was a small-scale manufacturer of outdoor thermal survival products; it has now grown to be the market leader in the field of thermal survival. Used in militaries and emergency services worldwide, Blizzard is also a standard for the outdoor market. Blizzard products represent a step change in the way both civilian and military trauma cases should be treated and Blizzard's unique Reflexcell™ material is incorporated into all Blizzard Survival products in military, medical, emergency preparedness and outdoor applications globally. The Company is based in Bethesda, North Wales, on the edge of the Snowdonia National Park; a mountainous region that offers truly challenging weather conditions and proving ground. Research and Development and all manufacturing are centered at this location.
PerSys Medical specializes in bringing life-saving innovations to market. We seek the highest quality of innovative technologies and products to meet medical challenges. PerSys Medical markets and distributes a variety of specialized medical and emergency medical products to military, law enforcement, homeland security, EMS, and wilderness medicine agencies as well as worldwide government agencies. The company has been active in the medical field since the mid 90's, responding to a growing demand for life-saving products. Aided by our close relationship with medics, training facilities and decision makers, we were able to successfully market several life-saving innovations, which have become the standard in the US military and other leading organizations.
###