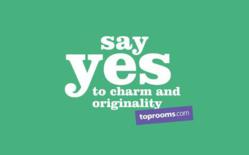 Life's too short to stay in a boring grey hotel so we wanted to create an identity and positioning that reflected that originality, that feeling of quirkiness and individuality.
London (PRWEB UK) 12 September 2011
Award-winning branding agency, Heavenly, this month launches a revitalised brand identity for toprooms.com, the independent hotel and B&B aggregator.
toprooms.com is a service that brings together the widest range of independent hotel and B&B rooms in the UK, helping people to stay in more original, individual accommodation than the more traditional hotel chains.
Brand consultancy Heavenly was appointed following a competitive tender to carry out a brand audit, develop a brand positioning and create a new visual and verbal identity for the site which is part of eviivo's stable of online portals promoting independent tourism. The core proposition adopted for the site - 'Stay Original' highlights the fact that toprooms.com is the antithesis of its more corporate competitors that often lack character and charm.
The core proposition led to an identity that personifies this antithesis. Using big bold characterful statements and a flexible graphic style Heavenly created a unique engaging and distinctive brand expression. Commenting on the work, Heavenly's Creative Director, Paul Franklin, said: "toprooms.com is all about real rooms for real people. It is about places with plenty of character for people with plenty of character. Life's too short to stay in a boring grey hotel so we wanted to create an identity and positioning that reflected that originality, that feeling of quirkiness and individuality."
Gavin Gray, Head of Distribution at eviivo, added "We are a company that has a vision of transforming the independent accommodation sector in the UK and abroad. toprooms.com is about saying 'no' to the cardboard hotels offered by the big chains. It's about saying 'no' to following the herd and saying 'yes' to going your own way, to creating your own style and being original. We are about championing the cause of the little guys who are the heartbeat of tourism in this country. We are delighted with the positioning and identity that Heavenly have created for the brand. It really captures the intelligent, quirky and welcoming traits of our brand, and the businesses we represent, whilst highlighting toprooms.com as a trustworthy and technologically advanced alternative."
###