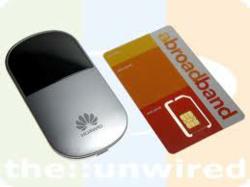 The best worlwide roaming sim
(PRWEB) September 12, 2011
Abroadband have been targeting the mobile internet market since February this year with great success. In a world where mobile roaming is expensive, abroadband have bypassed high data charges. Getting the internet on your mobile overseas is traditionally expensive with very few providers unable or unwilling to offer a competitive rate. High roaming charges are being scrutinised more closely in Europe but the rest of the world is still susceptible. Abroadband have risen above other operators by offering a global sim card that provides travellers the best roaming prices for their journey.
The recent EU price cap has shown that resistance to high data charges is strengthening. Yet Juniper Research's Nitin Bhas was recently quoted as saying that high worldwide roaming charges are unlikely to change soon (source: BBC website/technology). Abroadband has proven this to be false by offering data at €0.59 cents per megabyte in over 50 countries. Getting hold of worldwide roaming information from other service providers often involves scrolling through reams of text and small print that tend to hide the true cost of using the internet on your phone when travelling. Abroadband's website in contrast lays the prices out clearly so that there is no confusion over how much a customer will end up paying. Traditional views from many large operators claiming that they need to recoup the money lost in domestic markets are no longer being accepted and prove inaccurate when compared to the abroadband service.
Being willing to offer a flat rate global data roaming service has elevated abroadband and gained them positive recognition already by several organisations including the BBC and Mobile Industry Review (sources: BBC, Mobile Industry Review). The backlash against rising prices by consumers worldwide has been inevitable and abroadband have understood this. The flat rate services mean that customers can track their spending before even leaving their point of origin. A cost calculator is available on the website to prevent anyone from exceeding their data budget when abroad. This prevents unnecessary charges racking up whilst travelling and stops customers receiving expensive phone bill shocks at the end of the month.
The roaming sim is of particular interest to business travellers and any personal users who consume a vast amount of data when abroad. In the 52 countries the service is available in, the 3G signal does not falter. The sim card works on any mobile handset or tablet device (a micro sim is available for devices like the iPhone 4) and instantly provides access to the internet when booted up. It is challenge to find a world sim that doesn't cost a huge amount of money. The options available from abroadband will provide travellers a useful alternative solution.
Mobile internet usage has grown to 50% in the UK alone (source: BBC website/technology) and with usage reported to overtake laptops and PCs by 2014 (source: digital buzz), a mobile roaming solution will become available in all countries in the next decade. Abroadband have shown the foresight in providing a solution ahead of other more well known providers. A dongle is still available for any customer wishing to use a laptop device, but the majority of usage now comes from sim cards.
The EU is busy showing the mobile market that high data charges are no longer palatable to the consumer and abroadband have leapt ahead with their roaming and worldwide coverage. Flat rate costs, low roaming charges and a strong 3G signal ensure that the service is never anything less then perfect. The biggest challenge now for abroadband is staying ahead of the competition.
More information about abroadband and their services is available at: http://www.abroadband.com.
###