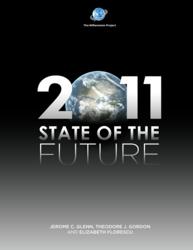 Hollywood, CA (PRWEB) September 12, 2011
The explosive, accelerating growth of knowledge in a rapidly changing and increasingly interdependent world gives us so much to know about so many things that it seems impossible to keep up. At the same time, we are flooded with so much trivial news that serious attention to serious issues gets little interest, and too much time is wasted going through useless information. How can we learn what is important to know to make sure that there is a good future for civilization?
The LA Committee of The Millennium Project's Global Arts and Media Node is holding an experimental Brainstorming Session to discuss these questions and to address opportunities for the arts and media creative community to collaborate with The Millennium Project to address the 15 global challenges and solutions found in the STATE OF THE FUTURE report published annually by the organization.
The 2011 State of the Future addresses these questions with input from futurists, business planners, and scholars around the world, who work for governments, universities, NGOs, corporations, and UN and other international organizations. This year's report features a new chapter entitled: "Future Arts Media and Entertainment
The brainstorming session is part of a larger event that will include a panel discussion with visionary artists, entertainment executives and philanthropists including Kate McCallum, Tim Kring, Marc Levey, Elizabeth Huttinger, Richard Cummings Jr., Kathy Eldon and Jeanette DePatie. The event will also feature consciousness-raising art, technology and entertainment demonstrations.
Date: September 15, 2011
Time: 4:00 Brainstorming Session
6:30 Happier Hour: Networking, Food Trucks and Digital Poster Sessions
7:30 Welcome Program and the PGA Power Panel--Producing Change
9:30 Vortex Dome Demo, Creative Exhibits and Cocktail Reception
Venue: Beaudry Theater and Vortex Dome
Los Angeles Center Studios
1037 West 6th Street
Los Angeles, CA 90017
Event Website: http://www.c3so.com
Speakers: Jerome C. Glenn -- co-author, 2011 State of the Future
Kate McCallum -- Co-Founder and Executive Director of c3: Center for Conscious Creativity, Chair of The Millennium Project's Global Arts and Media Node and a Fellow of the Society for New Communications Research.
Jennifer McClure -- Founder and President of the Society for New Communications Research and Social Strategist with Thomson Reuters.
Richard Cummings Jr. -- Actor, Producer, Director and VP of Acquisitions for pic.tv
Kathy Eldon -- Producer, Author and Co-Founder of the Creative Visions Foundation
Elizabeth Huttinger -- Board of Directors Manobi corporation
Tim Kring -- Multi-Platform Storyteller, Executive Producer (Heros, Touch) and Creator of "Conspiracy for Good"
Marc Levey -- Creator and Producer of Circle Up Now
Jeanette DePatie -- PGA New Media Council Board Member and Broadband Committee Chair
Dyal Productions has joined the c3 and the PGA as a production partner and sponsor to live stream the think tank to a global audience. To access the video streaming taking place from 4-6:00 p.m. PST go to this url: http://c3so.com/live-stream.html. Attendees will be able to ask questions or participate through a Twitter feed @#SOA2011.
The Millennium Project was established in 1996 as the first globalized think tank. It conducts independent futures research via its 40 Nodes around the world that connect global and local perspectives. Nodes are groups of individuals and institutions that pick the brains of their region and feedback the global results. It is supported by UN organizations, multinational corporations, universities, foundations, and the governments of Azerbaijan, Kuwait, South Korea, and the United States. This is not the "UN Millennium Project" headed by Prof. Sachs that produced scholarly papers to address the 8 Millennium Development Goals several years ago. Copies of the 2011 State of the Future will be available at this event. The event will be taped and available at http://www.wilsoncenter.org several days later.
###