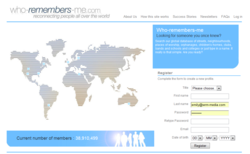 It was so nice to be reminded of our childhood.
London, UK (PRWEB) September 12, 2011
Who-Remembers-Me.com is an international social networking website, which specialises in reconnecting friends that have lost touch. They have recently refreshed their 'Star Story' campaign and have had new stories about friends who have found one another through the site flooding in. Running a prize draw each month, the best story receives a luxury food hamper or bottle of champagne.
Their August star story came from Denise Stone, based in the UK who told the site's PR Manager, Emily Goodyear, that she had joined the site thinking it was unlikely that anyone would get in touch, but someone did – a boy that she knew at school, sixty years ago.
Denise attended Hessle C of E Infants and Junior Schools, near Hull in England from 1949 – 1954. Michael Sellers was in her class and has since told her that he remembers when her father was lost at sea in a Hull trawler and the day that she was told, when she was escorted from the room crying by their headmistress.
Despite knowing one another sixty years ago, the pair have been able to reminisce about their school friends and share photos – they even discovered that two of their friends are now married.
Denise said of the site, "I joined Who-Remembers-Me.com with the uncertain hope of stumbling across someone from my past. I put my name on the site thinking of friends when I was a teenager in high school. Little did I know that someone from junior school would get in touch! It was so nice to be reminded of our childhood."
Previous Who-Remembers-Me star stories have included a couple who found one another on the site having not seen each other since they were teenagers. Upon meeting up nearly forty years later, Les and Bev Parr quickly fell in love and have since married.
To discover how Who-Remembers-Me.com could help you find friends from your past, register with the site at http://www.who-remembers-me.com. You can also connect on Facebook and Twitter.
###