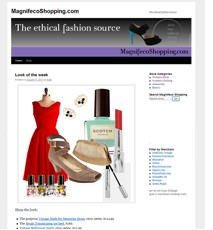 MagnifecoShopping.com is where ethics meets aesthetics.
Tokyo, Japan (PRWEB) September 11, 2011
http://www.MagnifecoShopping.com, the ethical fashion source, is a new shopping portal for conscious consumers, offering over 3,000 products in four categories: Women's clothing, Women's shoes, Accessories, and Beauty.
http://www.MagnifecoShopping.com is a companion site to the popular daily eco-fashion blog, http://www.Magnifeco.com, started in 2008 by founder Kate Black. Black saw the fashion industry moving towards a sustainable future and consumers needed a guide. Magnifeco.com, now read in over 115 countries, directs conscious consumers to products that are fair-trade, recycled, reusable, sustainable, organic, and/or vegan.
Spurred by a recent Guardian UK survey that revealed: 69% of UK adults keen to buy ethical clothing if it's more widely stocked**, Black decided to pull together all of the Magnifeco.com affiliates and offer one stop shopping for the conscious consumer. MagnifecoShopping.com features products like organic tops from FashionConsious.com, vintage dresses from ModCloth.com, vegan shoes from Zappos.com, there's even a STRiDA foldable bike, from NIMLI.com
Vendors on the new site include:

Beautorium.com,
Fashion-Conscience.com
Green People.co.uk
Hessnatur.com
ModCloth.com
MondeBio.co.uk
NigelsEcoStore.com
NIMLI .com
PlanetShoes.com
Zappos.com
Editors interested in learning more about eco/ethical fashion, or having Kate's assistance in holiday gift recommendations, are also welcome to contact us.
# # #