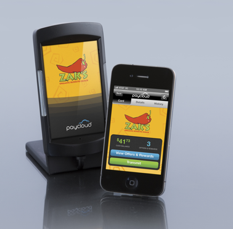 Paycloud lets merchants offer mobile loyalty and rewards without waiting for NFC.
Cleveland, OH (PRWEB) September 09, 2011
SparkBase (sparkbase.com), a leading loyalty and gift card network for financial services providers, and developer of the Paycloud mobile wallet application, announced today that they have received orders for more than 3000 Paycloud sensors that the company expects will be active in merchant locations across the country during the fourth quarter.
Paycloud is a free application that transforms iPhones and Android smartphones into mobile wallets that enable loyalty rewards and deliver merchant coupons and promotions directly to the consumer's phone.
The Paycloud application is the first mobile wallet that integrates with merchants' existing point of sale terminals without using expensive NFC technology. Instead, Paycloud allows customers using virtually any smartphone to connect with their favorite merchants by tapping their phone to a countertop sensor linked to the merchants' existing terminal.
Since announcing Paycloud's official launch date of October 27, SparkBase has shipped 500 sensors and has received orders for over 2500 more that are expected to ship in the fourth quarter.
Doug Hardman, CEO of SparkBase, commented, "We're thrilled with our customers' response to the Paycloud application. They want to offer a mobile solution to their merchants but recognize that NFC technology likely won't be commonplace for several years. But Paycloud lets them eliminate their plastic cards right now while offering marketing tools to strengthen their relationships with their best customers and deliver demonstrable value today."
About SparkBase – SparkBase entered the stored-value industry in early 2004 as the first truly independent gift and loyalty processing network. SparkBase continues to lead in innovation with its proprietary gateway, using patent pending technologies for processing stored value transactions with traditional cards, and new mobile payments methods. Developed in house at their headquarters in Cleveland, Ohio, SparkBase is a leader in gift and reward processing. For more information, visit sparkbase.com.
###