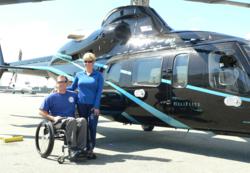 Newark, N.J. (PRWEB) September 12, 2011
Gary and Mari Linfoot have trained for new adventure and it's a big one. The Linfoots (aka, the Linfeet) are adapting to their new lifestyle after Gary was paralyzed in a helicopter crash while conducting operations in Iraq in 2008. The Huey 091 Foundation has helped provide Linfoot with a special wheelchair called an iBOT that can go up and down stairs and rise to eye-level height. Cycling has provided the family with a new way to enjoy the outdoors, exercise, meet people, and spend time together. As Gary pedals his hand cycle, he is an inspiration to many on how to adapt and overcome.
In honor of the 10th anniversary of the 9-11 attacks, the Linfoots are participating in a special edition Ride to Recovery Challenge event. The ride will span over 8 days and approximately 530 miles. The Ride to Recovery American Challenge will begin on 9-11-11 from Liberty State Park in view of the World Trade Center site and head west to the United 93 Memorial in Shanksville, PA. From there, over 350 participants will head to the finish at the Pentagon Memorial. Along the way, riders will cross the Delaware River at Washington's Crossing, stop in Philly, ride thru Valley Forge and Gettysburg and many other historical sites.
The proceeds from T-shirt sales and donations will be split between the Ride to Recovery organization and the Huey 091 Foundation to provide a mobility device for another injured service member. Donations can be mailed to Huey 091 Foundation, C/O Strasburger and Price, LLC, 901 Main Street, Suite 4400, Dallas, TX 75202. All donations received until September 18th, 2011 will be attributed to the efforts of Team Linfoot.
About HeliFlite:
Founded in 1998, HeliFlite is a full service helicopter operator offering on demand charter, a 25-hour HeliCard, fractional ownership and aircraft management services. HeliFlite is the premier provider of helicopter transportation in the New York Area. HeliFlite has become the preferred operator for Fortune 500 companies, aviation professionals, and affluent travelers for both business and personal use.
###