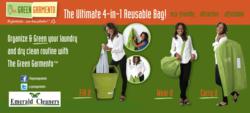 "Saving the planet, one clean shirt at a time"
Boston, MA (PRWEB) September 28, 2011
Pledging to 'save the planet, one clean shirt at a time', Emerald Cleaners of Boston has teamed with The Green Garmento to bring the multi-use, breathable and water resistant reusable bags to Bostonians. Clients simply set up an account online or over the phone then request a delivery. Emerald Cleaners sends a delivery representative to their door the very next day. Each account starts off with $100 of free dry cleaning and 1 free green garmento 4-in-1 garment bag. The Green Garmento starts at home as a hamper bag for soiled clothes, transforms into a laundry bag for pick up, and finishes as a hanging garment bag to protect cleaned clothes once delivered.
Using The Green Garmento and receiving your dry cleaning 'naked' -- without the single-use plastic bags, shoulder covers and twist-ties -- is a simple and easy green lifestyle change, not to mention helping cut down on the estimated 300,000,000 pounds of dry cleaning plastic that end up in US landfills and waterways, threatening marine and wildlife each year.
"In our first two years with The Green Garmento we have saved close to 2,000 pounds of plastic, 50,000 paper shoulder covers and heaps of twist-ties," says Joe Galante president of Lux Preferred an upscale concierge valet service by Emerald Cleaners. By adding the Green Garmento 4-in-1 garment bag to their environmentally friendly cleaning process, Emerald Cleaners is officially one of the greenest drycleaners in Boston.
With over 300 Lux Preferred residential and commercial clients saying no to plastic – including several high ranking Boston executives, politicians, sports professionals and even Boston's "It girl to fashion" couture designer, Denise Hajjar - Bostonians are embracing this positive change.
About Emerald Cleaners
A leader in eco-friendly practices and in the Boston community, Emerald Cleaners delivers to over 40 cities and towns each week. Emerald cleaners is an original member of a huge movement for small businesses called the 3/50 project and Lux Preferred valet services was recently voted one of 3 small businesses most Bostonians cannot live without!
About The Green Garmento™
The Green Garmento™ was founded by Boston native Jennie Nigrosh along with her husband, Rick Siegel. The company was named one of the 100 Companies to Watch in 2010 by Entrepreneur Magazine and is single-handedly creating the reusable drycleaning bag category. A growing staple with consumers, drycleaners and hoteliers across the US and world, The Green Garmento offsets the carbon emissions of all US shipments with Green-e Climate Renewable Energy. All proceeds from the program are used to build new renewable energy resources in the U.S.
# # #