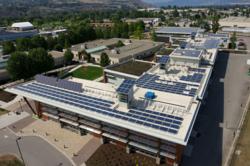 "The solar potential in Western Canada is exceptional. It will take industry leaders, like SkyFire and the Okanagan College, to ensure that this market grows to meet that potential." - Jared Donald, President of Conergy Canada
Pentiction, BC (PRWEB) September 12, 2011
The solar energy system at Okanagan College's newest building is the largest system developed in Western Canada. SkyFire Energy, one of Canada's most experienced solar EPC contractors, was the project developer for the 260 kW solar energy system which is using 1,106 Conergy P solar modules, on the rooftop of Okanagan College's newest building on its Penticton campus. Generating about 292,500 kWh per year, the solar energy system will help the building - the Centre of Excellence in Sustainable Building Technologies and Renewable Energy Conservation – meet the goal of being energy neutral over the course of an annual operating cycle.
With school back in session and students on campus, the college will have a three-fold benefit from the system. One, the solar energy system will help the College reach the goal of meeting the Living Building Challenge of net-zero energy and water consumption. In the Okanagan's sunny summer months, the solar energy system will at times exceed the building's needs and the energy will be fed into the grid. In the winter, the College will draw from the grid to meet the campus's energy needs. Decreased operating costs in terms of energy consumption are another benefit, but the College will also benefit from educational benefits for students
The photovoltaic system will be used as a learning tool and integrated into the college's trades and technology classes. With the interconnection recently completed, students and teachers have already reacted positively to the system.
The Okanagan College Students Union (OCSU), for instance, decided to contribute to the College's fundraising efforts around the building. Prompting the investment decision was knowledge that the College was demonstrating leadership in incorporating sustainability into the building and curriculum.
"When you sit down and realize that the power for the projectors and computers is coming from the sun, and that at times the building will produce more energy than it will use, you appreciate how we can use technology and innovation to address problems," says Cory Nelmes, a student who has been anticipating her first classes in the building, and who is also Financial Co-ordinator for the OCSU.
Apprentice and entry-level electricians being trained by the College will also be able to learn how the system functions, monitor energy production, and see how the system integrates into the rest of the building's infrastructure and with the municipal power grid.
The decision to deploy solar energy at the campus was an easy one for Okanagan College. The climate and rooftop were ideally suited for solar energy.
"Even as we were planning and building the Centre of Excellence, students and staff were excited by the energy-saving efforts and technologies being employed. Sustainability ranks high among our goals at the College, and the solar energy system on this building is a key component of our efforts," says Okanagan College's Director of Facilities, Steve Robinson.
"We at SkyFire Energy are excited to have been involved in another school-based educational system as it will allow the current generation of students to learn the benefits of solar first hand. This installation and Okanagan College training will help to grow the solar industry in British Columbia and Western Canada. A showcase project such as this one provides an excellent reference point for the industry and raises the bar for photovoltaic installations in Canada," said David Kelly, an owner of SkyFire Energy. SkyFire Energy chose Conergy P modules due to their low-price, high-performance characteristics, their Conergy-backed warranty and quality control and for the excellent customer service and resources from Conergy technical and sales staff.
"Installations of this size and profile built in Western Canada really showcase the diversity of the Canadian photovoltaic market," stated Jared Donald, President of Conergy Canada. "The solar potential in Western Canada is exceptional. It will take industry leaders, like SkyFire and the Okanagan College, to ensure that this market grows to meet that potential. We applaud Okanagan College for its environmental leadership and innovative education programs."
About Conergy
Around the world, only Conergy delivers solar energy systems from a single source. As a system manufacturer, Conergy produces all components for a solar installation and offers all services under one roof. With its modules, inverters and mounting systems, the solar expert creates Conergy System Technology, which is efficient and synchronized solar energy systems for private or commercial rooftops, as well as for multi-Megawatt Parks.
Conergy System Sales brings Conergy premium products to nearly 40 countries. The solar expert supports homeowners, installers, wholesalers and investors in their efforts to "go solar" through deep-rooted local operations in 18 countries. With sales activities on five continents, Conergy has close relationships with all its customers. Listed on the Frankfurt stock exchange, Conergy employs more than 1,700 people worldwide. Since Conergy's founding in 1998, it has produced and sold more than 1.5 GW of clean solar power.
Conergy's Solar Large Projects Group delivers a "Worry-Free Package" for Conergy solar installations. Conergy's experts manage the planning and financing, project installation and implementation, system monitoring, operation and on-going maintenance for turn-key solar projects to achieve maximum performance.
Through its acquisition of well-established local companies, Conergy began operating as a distributor and project developer in North America in 2005 and currently has five offices, four warehouses and three production sites in the region. Conergy manufacturers mounting systems in Sacramento, CA. In Ontario, Canada Conergy produces modules and mounting systems that meet local content requirements for the Provincial FIT. Conergy offers innovative products and tailored services to their North America network of system integrators and project developers.Through these activities, Conergy maintains expert knowledge about local market conditions and requirements.
About SkyFire Energy
SkyFire Energy is one of Canada's largest solar EPC (Engineering, Procurement and Construction) contractors with over 80 grid-tie photovoltaic systems operating throughout Western Canada and Ontario. Their customers include all levels of government, commercial and industrial businesses, homebuilders and residential owners. Their staff includes professional engineers, photovoltaic technicians, and experienced installation crews.
About Okanagan College
Okanagan College is a publicly-funded post-secondary institution that offers degree, diploma, certificate and Continuing Studies courses to more than 20,000 people annually. With more than 1,000 employees, it is an organization that has made sustainability one of its key objectives. It is a leader in sustainability in Western Canada. Its Centre of Excellence in Sustainable Building Technologies and Renewable Energy Conservation has been built and will be operated to achieve the Living Building Challenge, which is among the world's most-demanding guidelines for sustainable construction.
# # #